Travis Pastrana's Nitro Circus Live returned to the UK in June and July for its first ever UK and Ireland outdoor stadium run. The tour comprised 13 explosive action sports performances and a whole lot of crowd gasping. TPi's Kelly Murray visited Sheffield's Bramhall Lane Stadium to experience the high flying Nitro Bomb in all its high flying glory.
Often billed as one of the most explosive, adrenaline-fuelled touring events in the extreme sports world, to visit Nitro Circus Live is to witness death-defying stunts, head scratchingly good gags and some remarkably brave challenges to gravity. Pre tour, Michael Porra, Nitro Circus CEO and Creative Director, commented: "We are so excited to bring the biggest, most daring action sports production ever staged to the UK and Ireland. Our insane group of athletes perform stunts that you literally cannot see anywhere else on the planet. We're constantly pushing each other to break records and do things that people previously thought was physically impossible. We had an epic time in the UK this year, and we were pumped on just how many people came out to see us. Now we're ready to show a whole bunch of new cities and towns what we're all about. This is our first series of UK and Ireland outdoor shows and we're performing at some awesome outdoor locations."
On site in Sheffield, the international cast of wheel spinning daredevils – including some of the action sports world's most sought-after stars – took to the outdoor arena for a lengthy and publicly viewed practise before the expertly choreographed BMX and cross bike riding routines were mixed with freestyle motocross (FMX), BMX, skateboarding, scooter tricks and much more. The aforementioned Nitro Bomb features several riders flipping simultaneously over the huge ramp, including the 'giaganter' structure, a towering beast of a platform from which an array of objects – including a snowboard, a children's toy car and a sofa – take off from.
Production
Getting the show on the road – in 15 trucks – takes a lot of expert precision, and not just from the athletes. Headed up by UK & European Production Manager, Rupert Doogan-Hobbs of Lizz Hobbs Group, the tour boasts a travelling party of 85, 50 of which are crew. Lizz Hobbs Group specialises in promoting and producing concerts and events for the rock and pop world (Bryan Adams, Simply Red, Adam Ant), but as this is the tour's first UK & Ireland stadium tour, it's also the first time the company has looked after the event. Surrounded by what can only be described as the most testosterone seen on any tour I've visited in the last decade, (think teenage boys and adrenaline sports then times it by 100mph) Doogan-Hobbs explained that this tour has been somewhat of a learning curve. "Part of the reason we've come on board for this tour is thanks to our experience with large scale outdoor shows. We were also brought on for our specific skill set when it comes to licensing events. Lizz Hobbs Group does its own event management plans and licensing applications, so we meet with all of the necessary H&S regulations and make sure the right documentation is in place. Within that we've had to interpret the structures and CDM briefs for UK legislation on outdoor structures, as they were in Australian standard before."
The ramp configuration is one which is toured globally, with the physical structures being adjusted for each continent. Continued Doogan-Hobbs: "The relationship between TAIT and Nitro Circus has been going strong for a long time. They've made some brilliant custom inflatable landers, the giaganter FMX ramp and some specific textured flooring for the landing areas. This tour has a different vibe to the indoor arena show Nitro put out earlier in the year. Whereas that production was very much about the 'wow' factor with pyrotechnics and a hugh lighting and video show, the whole point of this tour is to take it back to the grass roots; we're building an outdoor space for the athletes to show off their skills."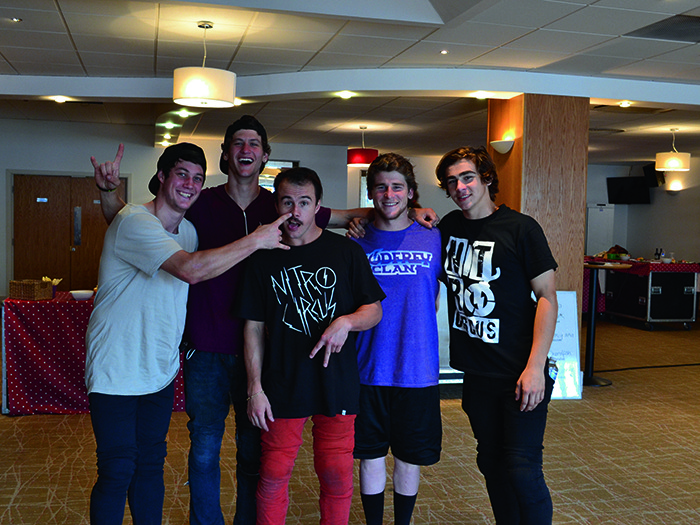 The production vendors list may not be long but the suppliers are well-known to the tour. Besides TAIT, Doogan-Hobbs is working with Fly By Nite, Phoenix Bussing, Clair Global and Snakatak catering. The tour also carries its own plant hire and power generators. The latter thinking is to ensure that the tour isn't delayed in any given city, allowing the crew to have all the elements necessary at each venue. "In June and July in the UK, festival season is always somewhat of a challenge, so we carry it all and it's worked out vey well."
According to Doogan-Hobbs, the touring life for the Nitro Circus cast is very much focussed on the 90-minutes of performance time each day. He continued: "The riders are permanently in the right mindset to do what they do; they live and breathe action sports. Our biggest job as the crew is to build, because once everything is built and prepared, the cast come out to practice all of their new tricks – some of which will be seen for the first time on this tour. In a sense it's a far more relaxed environment than music touring because it's not promotional led. All the riders are professional sportsmen and that's what they're interested in above everything.
"On the build side, we've learnt a lot in our first year. The Australian crew toured this show before it came to the UK and so the tiny little details such as setting the track up in a certain way have thankfully been passed on to us. The show has been in constant development for 14 years and it's been interesting for us coming into it on the outdoor shows because it's more of a construction than a typical 'technical' touring production.
"It's actually been one of the most, if not the most, logistically challenging and labour-intensive tours we've ever been involved with, but as far as the show itself goes; the concept, the people involved from the cast and the crew, have been nothing short of utterly brilliant. There's nothing else quite like Nitro Circus, and everybody involved knows it, plus the fans absolutely love it! If you have an interest in this lifestyle, then being able to watch it live and see the guys at work is something quite special. Although, they are modest too; the riders do sometimes need reminding that they have fans waiting for them outside who want items signing and photos taking!"
Andy Buckworth, a competitive BMX rider from Australia has recently joined the Nitro Circus touring cast. Over a much-needed energy drink, he told TPi: "There's a very different vibe on the Nitro Circus tour compared to the competitions we all enter; there's only one cash prize and one trophy to take home when you compete, so that's a very competitive environment. Out here we're competitive in a different way; we push each other outside of our comfort zone and spur each other on because we all want the show to look the best that it can for the people coming to watch us perform. And that helps us to learn new stunts too."
Staging
In 2014, Nitro Circus was looking to reinvent its show, including figuring out how to adapt tour the production. There have been significant advancements in the world of inflatable technologies over the last few years, and TAIT was approached about creating a new kind of inflatable ramp. The result is a true first for use in high pressure, high impact sports events. Once some feasible designs began to take shape, prototyping the ramp based on the engineering criteria got underway.
The Nitro crew has various names for its stage systems: the giaganter lander references the giant drop in ramp that is used by the athletes on skateboards, in-line skates, BMX bikes, big wheels, snowboards, kayaks, barcaloungers, a toy car, and even a rocking horse!
The other lander is for FMX riders and is used for anything and everything motocross – dirt bikes, quad bikes and snowmobiles. This structure has to endure the impact of riders reaching heights over 50ft – and landing accordingly. TAIT and Nitro worked on this touring project collaboratively and the results are more than impressive to watch live. Matt Hales, Senior Project Manager at TAIT commented: "Being able to bring new technology to Nitro, and have them push the boundaries of their sport while trusting us to meet their vision, has been an amazing experience.
"It's incredible to hear feedback that some of the riders are more comfortable on the new inflatable systems, allowing them to expand, develop and attempt new tricks that they may have otherwise attempted in other venues. It really gives you the sense that you are contributing to the progression of an already mind-blowing and insanely talented group of athletes."
Audio
Glair Global supplied audio for the tour in the US, UK and Europe. In the UK a Clair i3 sound system was utilised. The design comprised a 6 – 10 box stacked speaker system on carts, six of which were custom-built at Clair's Lititz, PA, HQ. The carts consisted of four i3's and one CP218 sub. The system was powered by Lab.gruppen PLM20,000Q amplifiers. FOH control was via an Avid Profile console, using eight channels of wireless and 40 walkie talkies, mixed by Mike 'Robbo' Burdett. The microphone package for the comperes comprised three Shure wireless handhelds.
Catering
Sheffield-based catering company Snakatak has been working with Nitro Circus for five tours, and the UK stadium run marks the second time the foodies have worked with Lizz Hobbs Group. Heading up the team of five, Emily Cribley was on the road along with four caterers who took on the challenge of cooking for the core crew of 84 daily, plus guests.
Said Cribley: "The tour in particular consumes a lot of food! Because they're training all day, they're always hungry. We make around 130 portions each day, which always gets eaten! We cook three meals a day, then after the show they get pizza, plus the tour buses are filled with snacks, so they eat constantly because they're burning so many calories. This tour is different to a music tour because they tend to want a bit of everything at meals times too, rather than just order one dish. We make two meat dishes, one fish plate – always the healthiest on the menu because it's protein-heavy and low fat – and a vegetarian option. There's also a pasta choice always on hand because they love carbs. Some members of the cast are very strict, with an athlete's routine so they'll only eat superfoods and won't consume any alcohol. I think it's a quite relaxed team generally though, as long as they eat really well."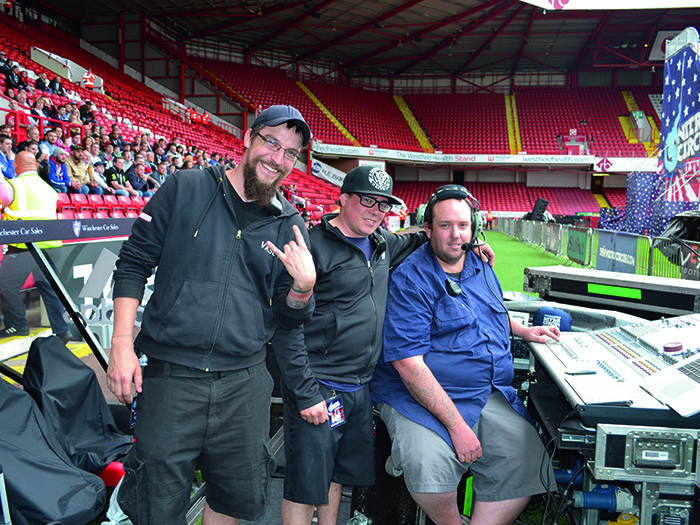 Doogan Hobbs stated: "The Cribleys are fantastic. Our first stop for tour catering is always Snakatak. It's been really nice to have those familiar faces in a new environment for us. the catering is a very friendly place, and their food is delicious!"
Cribley concluded: "I love this tour more than any other I do because there's loads of athletes working together rather than it being one star and their entourage. Feeding hungry young men is great too because they really appreciate and enjoy everything we put in front of them. They're such lovely, enthusiastic and happy people and that shows daily when they come into the canteen."
Transport
Fly By Nite began its relationship with Nitro Circus at the end of 2015 during the show's last UK arena tour. When Lizz Hobbs Group took over for the outdoor circuit, Doogan-Hobbs wanted to keep the trucking firm involved to supply a total of 13 trucks. According to FBN's Matt Jackson the 13 drivers – led by Graham Butler – thoroughly enjoyed the tour, citing its main challenges as the unpredictable British summer weather. "We had a great time working with Rupert, it went really well. He came to see us before the tour started and really took his time to go through everything with us, working with Lizz Hobbs Group was a pleasure.
"The tricky parts all stemmed from the weather; if it rains, they can't continue with the event, so when this happened, the shows were re-arranged. However as we have a fleet of 125 trucks, we were able to adjust and continue at short notice. "
FBN supplied 13 artics comprising both curtain sliders and box trucks. Continued Jackson: "The curtains are good for flexibility but it's somewhat unusual for us to use more curtains than box trucks; on music tours its usually the other way around as the soft sided trucks don't lend themselves too well to flight cases, but for big set pieces such as the ramps in this case, it's very suitable. "
Jackson concluded: "Nitro is an event that we'd always been aware of, so we were delighted when we managed to become involved with it last year. It's different to our normal music and corporate clients but it's such a popular show; all of our drivers really enjoyed working with the crew."
Phoenix Bussing provided the tour's buses, Andy Gray stated: "We have been supplying buses for Nitro Circus since 2012 when the tour first came over to Europe. As this was the first time they've done an outdoor tour here in the UK, it was a bit of a challenge trying to plan driver breaks and ferry crossings to and from Ireland with the Great British weather!
"Luckily for the most part, the rain held off and the majority of shows were completed without a hitch. The crew travelled in two Phoenix 16-berth double-decker buses and the cast had two 14-berth double-deckers at their disposal. It's been great to be involved once again – we're just waiting for an Evil Knievel moment where they line all of our buses up and jump over them all!" he laughed.
No doubt that could be arranged! The final word goes to Doogan-Hobbs: "There is so much adrenaline, exceptional talent and a lot of fun to be had on this tour, and that's what makes it an absolute pleasure to work on!"
TPi
Photos: Nitro Circus & Kelly Murray
http://nitrocircus.com
http://lizhobbsgroup.com
http://clairglobal.com
www.taittowers.com
www.snakatakcatering.com
www.flybynite.co.uk
www.phoenix-bussing.co.uk