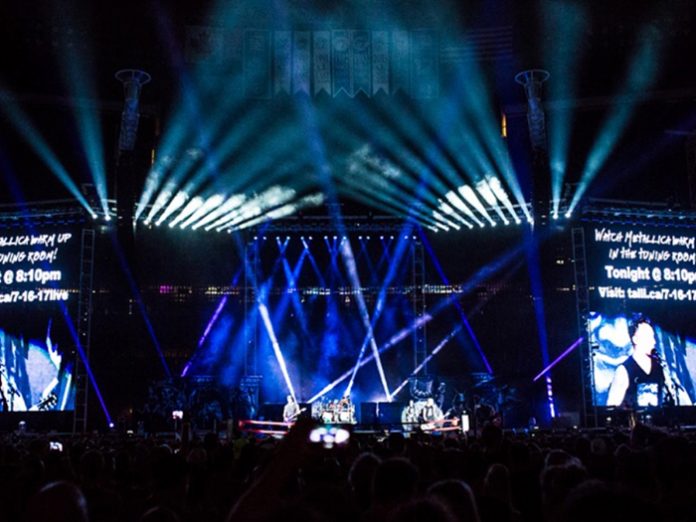 Long before Metallica tears up the stage with their sizzling performance, opening act Volbeat kicks off each evening with a growling aggressive show that leaves complacency crushed in its wake. Setting an appropriately edgy tone for the Danish band's performance is a stage design built around a boxing theme. Niller Bjerregaard, who helped design the set, also puts some punchy lighting on it with a rig that he controls with a ChamSys MagicQ MQ500 Stadium console.
Bjerregaard, the Lighting and Set Designer for Volbeat, is using six universes in his show, which takes place in in the three-rig middle section of the five-rig stage. He is drawing on roughly 100 fixtures from the tour rig, most of them moving spots, beams and strobes. There are also four follow spots in his rig, which contribute to the theatrical flavour of his design.
"Volbeat is a very visual band that has a story line in their songs," he said when describing his lighting design for the tour. "There are stories with different meanings behind their music. I take a theatrical approach to the design to reflect these stories. I use different elements to light up the drapes or video screens. On this tour, all surfaces on the stage are illuminated. There is also no visible truss or normal light. We cover set, trusses, backline and everything with rusty metal sheets to create an old barn look, because this is historically where prize fights took place. Basically, our design converts stage's snake pit into a boxing ring. If you look at the latest Volbeat album cover you will find a boxer. We are going with that theme to support the art work and album."
A longtime ChamSys user, Bjerregaard has found the new MagicQ MQ500 Stadium to be a great aid in helping him navigate his way through his complex drama-driven show. "I have owned or used almost every ChamSys product, and they've always been excellent, but the MQ500 takes things to a new level," he said. "It is now the desk as far as I'm concerned. The biggest help from the MQ500 for me in this show are the two touchscreens. They give me all the information I need right there in front of me, without requiring me to flip through page after page."
With the WorldWired tour stopping at festivals as well as arenas, the MQ500's visualisation and plotting features have also come in handy. "They are a huge help in programming, making it much easier," said Bjerregaard. "I do a lot of cloning, so now I can see what I'm actually doing. Being able to get the pallet updates done and VIS any changes you make is a huge help. Once you get the hang of using VIS it's so easy to alter the rig and lights. I do have an extra wing with me for more faders, but I don't really need it anymore. There are 15 faders, 15 buttons and 12 execute buttons. The execute part of the MQ500 is going to become more of a significant part of my show."
On the subject of his future Volbeat shows – now that the band has achieved platinum success in its native Europe and gold in the USA – it's safe to assume that they will one day be headlining their own North American tour. When they do, Bjerregaard and his ChamSys console will likely make it even more dramatic.