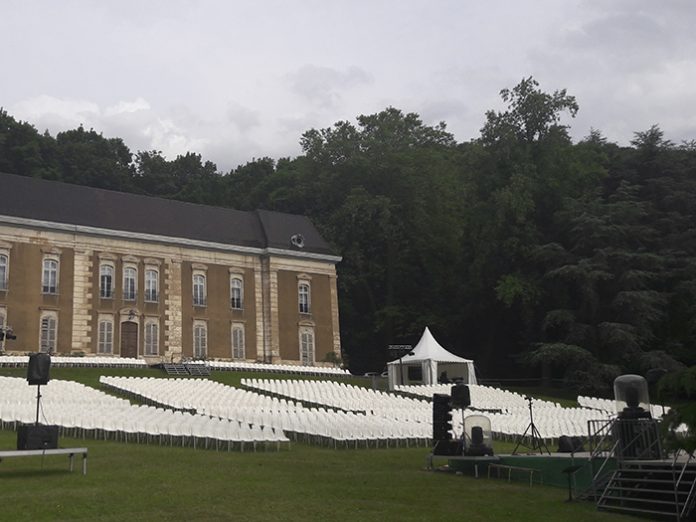 MK plus, the full service rental house based near Lyon, is one of the pioneering users of Nexo's new GEO M10 mid-size line array. Frédéric Guinand's company has debuted the high output SR system on the 4-day Changez d'air music festival, as well as several indoor events.
A very high-profile test of the new system took place in the elegant grounds of the prestigious Ombrosa Lycée Multilingue de Lyon, in Caluire. Ombrosa is a private international school operating within the French national educational system. To mark its 45th anniversary, the school hosted a large outdoor event in its grounds. For the audience of 2,500 people, the highlight was a performance by 500 young students on stage.
MK Plus presented a large mixed Nexo system for the fête, using groundstacked GEO M10 as the main PA. Using a 10-inch LF driver and 1.4-inch HF driver, these 2-way cabinets offer 12.5 degrees of vertical dispersion and a frequency response of 59HZ-20KHZ. For Ombrosa school, each groundstack comprised five GEO M1012 modules mounted on top of one of the SUBM15 sub-bass cabinets, using a dedicated bumper accessory. Given the very wide audience area, MK Plus engineers pulled in a couple of PS15-R2 speakers to broaden the dispersion. A number of PS10 cabinets were used for front fill, monitors and side fills, all powered by three NEXO NXAMP4x4s.
"This was one of our first outdoor events for GEO M10," explained Guinand. "We were again impressed by how far this system will throw, giving us very good coverage of the audience area. Despite the large number of static microphones on stage, the results were very warm and balanced."
The system was networked over Dante, and mixed on a Yamaha CL3 console. "The implementation of the network was simplified by using Nexo's NeMo system management software which makes it easy to position the devices, manage them and monitor their parameters."concluded Guinand.