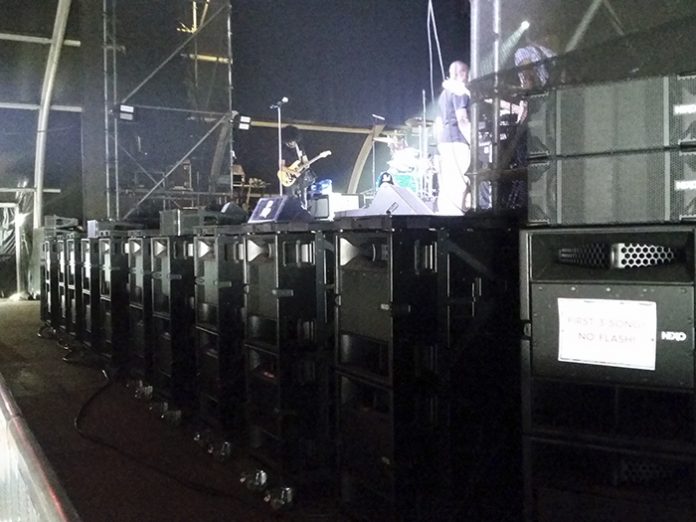 Belgian rental company VDB-PA has deployed its new Nexo STM modular line array systems at this year's Pukkelpop festival.
Now the second largest festival event in Belgium, Pukkelpop's eclectic musical line-up featured Nexo systems on three of its 10 stages.
VDB-PA recently made a major investment into Nexo's STM modular line array technology, purchasing 18 sets of STM M46 and B112 main and bass cabinets, together with 24 STM S118 subbass cabinets. This inventory expands VDB's considerable stock of Nexo products, which includes the Geo Series, RS subs, 45°N-12 line monitors and many PS Series cabinets.
The 3,000 capacity Club Stage was played by Catfish and the Bottlemen, Matt Corby, Glass Animals, Julia Holter and Brian Fallon & the Crowes. System set-up was nine sets of STM M46's and STM B112's per side, with 24 S118 subs running in cardio mode ground stacked along the front. STM M28 modules were used for front fill, and PS15 cabinets for stage monitoring.
Along with delay towers of five M28 modules per side, an identical set-up was used on the Castello stage, which had an audience capacity of 4,000. Artists included Tale of Us, George Fitzgerald, Bob Moses, Kink Live, Palms Trax and Dusky Live.
Over on the Shelter stage, where the hard rock and metal acts were playing (Refused, Neurosis, Mastodon, Graveyard and Marky Ramone's Blitzkrieg), there was a Geo D rig – 10 D10 cabinets per side, with two Geo Subs in the array, and 16 RS18's on the ground. Several 45°N-12's were on-stage for monitoring.
From NEXO's Engineering Support Team, Theo Said was on hand to help set-up the new STM systems. "Set up and system tuning went very well. VDB's technicians liked the way STM sounds flat and didn't push the EQ too hard," he said. "All three venues were in big tents so the acoustics were not optimal. However, the skilled VDB team demonstrated impressive knowledge and efficiency in getting the stages up and running. It was a pleasure to work with open-minded young technicians like these."
Nexo systems have appeared at some of Belgium's biggest festivals this year, including Couleur Café, Les Francofolies, the Brussels Summer Festival and Leuven.