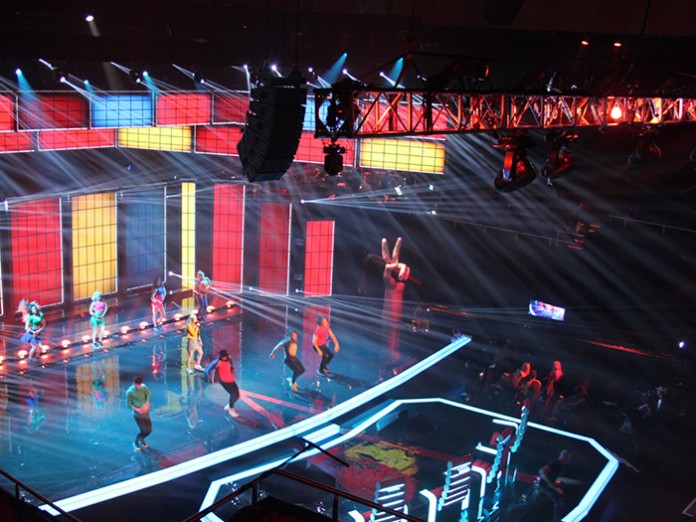 Rental company Sound Design has purchased Nexo's STM M28 modular line array system for Ireland's edition of the popular TV talent show, 'The Voice', which is produced in the Mahony Hall at the Dublin venue The Helix.
This is Sound Design's fifth consecutive year of providing sound reinforcement for the live shows, keeping things fresh by changing the auditorium PA from the Nexo GEO S8 compact line array to the more powerful M28 cabinets. However, NEXO's distinctive wedge-shaped 45°N-12 stage monitors remain in place, having become an integral part of the show's design. Two circles, each formed out of 6x monitors, positioned in front of the famous red chairs to provide stereo monitoring mixes for the judges and dancers, are now a visual signature of the Irish version of the show.
Flown high over the stage, two arrays each with 6x STM M28 cabinets provide the main PA, with 3x RS15 subs hidden on each side of the theatre. Trimmed at just over 10 metres, the compact STM double 8" modules supply coverage for 800 seats. Using NEXO's proprietary NS-1 design and modelling software, Sound Design's John Vickers has calculated inter-cabinet angles to achieve dispersion over some 23 metres from front row to top balcony with just six boxes. "And there's plenty of headroom in the system," he said, from his front of house console. "If I opened it up, I'd take their heads off!"
Mixing the live shows himself, Vickers is using about 64 channels of his Soundcraft Vi6 digital console, handling 48 RF channels, including some 20 in-ear systems for the on-stage performers. 'The Voice' is broadcast by Ireland's premier national channel, RTE One.