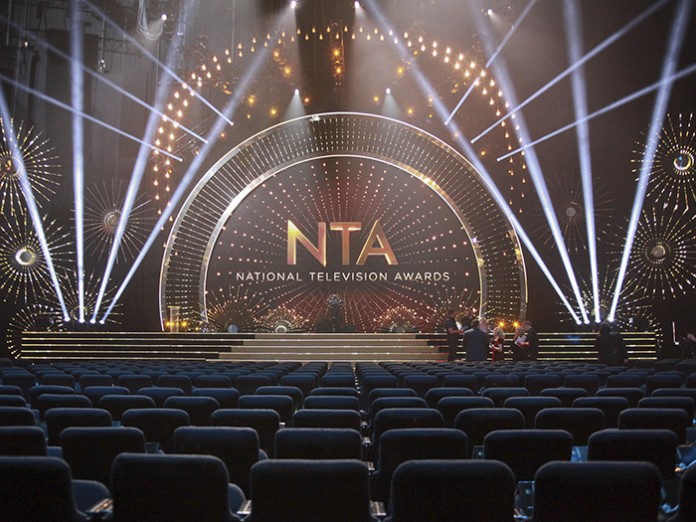 Arena Seating co-sponsored the 21st year of the National Television Awards (NTA) to supply 678 fully upholstered flat tip-up Diplomat seats with arms, which were installed in the front stalls section of London's O2 Arena, reserved for the VIP TV personality nominees and winners.
Martin Clark, Arena Seating Project Manager, and his 12-strong team, took just one day to install the prime view seats close to the stage, as well as the indoor and outdoor glittering red carpet. The build was completed in two halves, first the red carpet under the VIP seating was laid followed by the seat installation, then finally completed once the outdoor VIP red carpet had been rolled out.
Clark said: "With an extremely short load-in time, it is testament to everybody who works on the show's production it runs so smoothly. Everybody has to use the same load-in doors at the O2 so patience and cooperation is a must between the many suppliers it takes to put on such a fantastic live show. The load out process also requires quick work from all the suppliers, by 8am the following morning you wouldn't even know the NTAs had been held there at all!"
Blackout's Project Manager Chris Brain and his team took just three days to install a 20 metre by 12 metre drape shaped to frame the top of main stage's large golden arch, behind which the main screen displayed the award nomination footage.
Behind these layers, a 35 metre by 15 metre backdrop drape was installed helping to create an entire black canvas, making the vivid lighting displays and set props stand out further, avoiding the live audience's attention being drawn to other set elements in the room. An additional 100 metres of Easibuild pipe and drape was installed to enclose the dressing rooms, quick change areas, OMG area and the VIP / aftershow areas.
Brain commented: "It is a privilege to work on such a fantastic show and we are delighted to work with Indigo TV and the NTAs for the 12th year running. We relish the opportunity to return year on year and we look forward to supporting the event in years to come."
140 metres of trusted Mojo Barriers' aluminium stage barrier lined the star-studded outdoor red carpet, ensuring the safety of both the fans and the TV personalities, installed by UK Manager Kevin Thorborn. He added: "We have previously worked with the NTAs and it is always a privilege to work on such a fun show, set in an iconic London venue that has been home to many other events that we've also worked on like the BRIT Awards. A rapid turnaround is required in a venue like the O2 and as a team we work to compliment the event requirements, ensuring the guest and fan safety is of the highest standard."