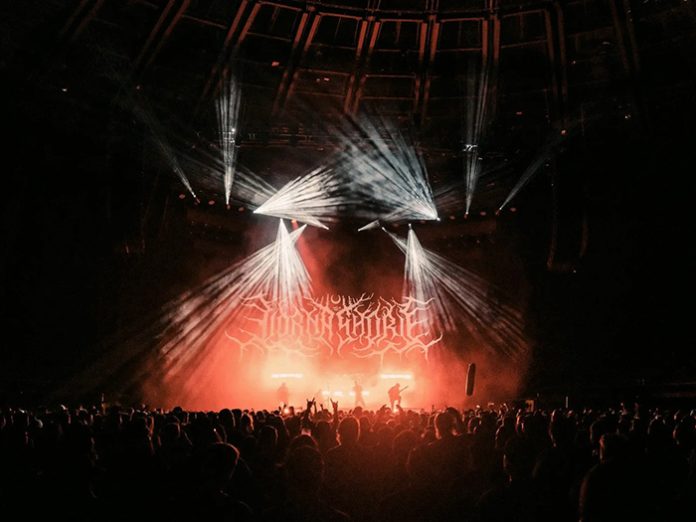 When it comes to lighting, Lorna Shore and their LD, Nate Haber, have one edict that they're pretty strict about: limit the use of front light.
"The band and I have come up with a few guidelines regarding front light," said Haber. "In no particular order it goes something like this: the default is that they have no front light. Also, we try to keep Austin and his drum set as lit as possible. When Adam has a guitar solo he always needs light; and when Will is talking to the crowd, he needs light too. There are a few other parts in songs where I light the band because it feels right. In those cases, typically, if you can see one member of the band you can see them all, but at this point in time, the band and I really like the silhouette look."
Haber has been able to serve up some tasty varieties of those looks, along with some blow-your-head back audience lighting on Lorna Shore's current Pain Remains Tour with help from a Squeek Lights rig that features 14 CHAUVET Professional Color STRIKE M motorised strobes/washes.
Using this rig, Haber is creating intense, off center looks with a variety of different side and back lighting, as well as low-lying effects that fit the music of his client like a tight leather glove. Their shows are actually part of "two tours." The band headlines its own Pain Remains run of shows at 650-2000 capacity venues, then also opens for Gojira and Mastodon in the Mega Monster arena and amphitheater tour.
Speaking of the latter, Haber said: "We worked really hard to design a floor package that was mobile and quick to move off stage, but also complimented house lighting in clubs and the arena tour's flown package. In that regard, I think we nailed this design."
The Color STRIKE M fixtures have been part of Haber's rig on both tours. "We always take them with us," he said. "Their brightness is really important to us and we can't rely on house rigs to give us that level of intensity. At the big Mega Monster venues, they stand up to anything the rigs at arenas and amphitheaters can put out."
Haber is arranging four raised Color STRIKE M fixtures on each side of the guitar cabinets. The remaining six units are used to light the drummer. "They are really bright and really strobey," he said of the high-powered lights. "For Lorna Shore, it's tons of strobes all the time. They want to blind people. They want the crowd to feel overwhelmed.
"We also use these fixtures for audience lighting," continued Haber. "We do use a lot of audience light – and I do mean a lot of it, often in the form of flashes on big drum hits. We have some cool chases for solos also. Our current on tour photographer Nick Chance has excellent timing and we work really well together."
The Lorna Shore tour show is busked, but Haber is mostly using effects that he would have timecoded if he elected to go that route, noting that he doesn't "have a bunch of stuff running in my programmer when I'm performing the show," other than a main cue stack and some really cool bump buttons.
"I program what I need for each song," explained Haber, adding, "I know these songs and I feel like I know what they should look like." The wildly devoted fans of this rapidly rising group would readily agree.