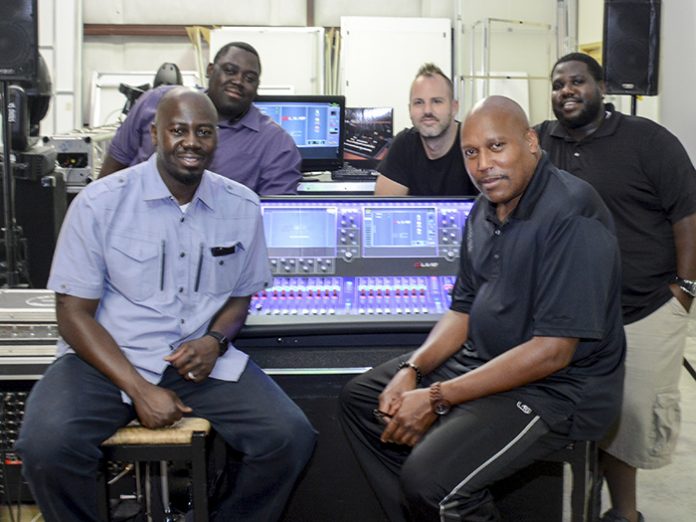 R&B artist Musiq Soulchild is currently on tour in support of his seventh album, Life on Earth. Audio production on the tour is provided by Digital World Live, an Atlanta-based live sound training company using an Allen & Heath dLive S7000 Surface and DM48 MixRack for FOH and a dLive S5000 Surface with DM64 MixRack for monitors.
Prior to the tour, Musiq told Digital World Live's Harry Timothee, (also Musiq's Production Manager), that he wanted a "new sound", one that would bring a "prestige" quality to his performances.  "So we researched new gear starting with the dLive," Harry said.  "And, after a few days of rehearsal, everyone was blown away."Digital World Live also added a Shure wireless microphone system with Dante output.  "Now, with the dLive's Dante card," he continued,"we've got a pure digital signal throughout our entire system."
Tonderick Watkins mixes Musiq's FOH on the S7000 Surface.  Watkins noted that, as an R&B singer, Musiq's ballads often feature softer, falsetto vocals requiring a higher gain setting with an accompanying increase in hiss noise.  "With the dLive," he said, "we're running at 96 / 24 and we didn't get the noise."  Henry Timothee mixes in-ear and side-fill monitors on the S5000 Surface.  He uses several dLive creative tools on vocals including the ADT voice doubler and tube preamp emulator and he uses a multi-band compressor on drums.  Henry uses an Allen & Heath ME-1 Personal Mixer to monitor Musiq and the band and to listen to several talk-back mics for ques.
Both engineers use scenes to set up the dLive for different songs.  Harry says the dLive's scenes are much more flexible and intuitive than the "snapshots" on their previous digital mixer.  Both engineers also use dLive layers to keep track of the show's 48 microphones, direct feeds and recorded tracks. They record Musiq's performances to Tracks Live and Studio One setups and play them back during rehearsals using the dLive's "Virtual Sound Check".  Musiq's musicians also use the recordings to update their show files during free time.
Harry says everyone at Digital World Live was impressed with the dLive's ease of learning and they love its drag-n-drop touch-screen programming. He commented, "We've always wanted Musiq's sound to be in the same class as a pop or rock artist.  And after our first show with the dLive in Atlanta, Musiq told us, "This is the sound I want. It's crispy, clear and pristine."