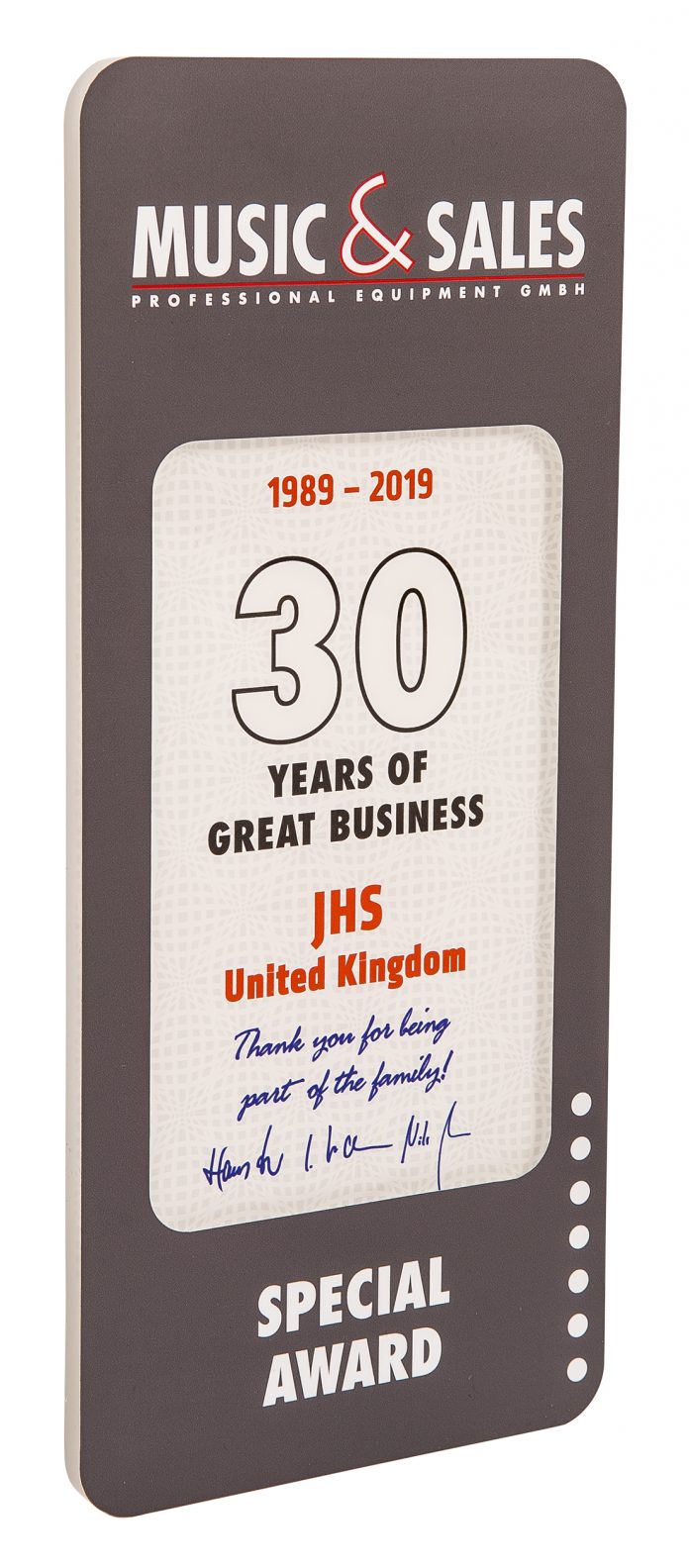 Music & Sales and JHS are today celebrating 30 years in business together, with the German company presenting their English distributors with a special award to commemorate three decades of success.
Beginning in 1989, the partnership between Music & Sales and JHS introduced reputed German amplification brand Hughes & Kettner to the UK and ROI. In recent years HK Audio, professional sound solutions made in Germany, has also been distributed throughout the UK and ROI from JHS's Leeds headquarters.
Hans Stamer, HK Audio's founder and Music & Sales CEO, said: "Over the past 30 years, we have developed an incredibly strong and successful relationship with our friends at John Hornby Skewes & Co. Ltd. As one of our most important partners in business, JHS has represented HK Audio and Hughes & Kettner in an exemplary way, from guitar amps and singer-songwriter PAs to install solutions and line arrays. We're looking forward to another 30 years of success with them!"
Speaking on behalf of JHS, Managing Director Dennis Drumm said "Our partnership with Music & Sales is a long-lasting and hugely rewarding one. In our 30 years together we have changed the landscape repeatedly. In three decades, beginning with Hughes & Kettner and latterly with HK Audio, we have introduced a wealth of revolutionary amplification and pro audio products to the UK and ROI marketplaces. We're very grateful to receive this award – here's to another 30 years of sound design revolution and successful business."
HK Audio has recently unveiled new websites dedicated to its diverse product portfolio. Visitors to HKAudio.com will now be given the choice of entering a Soundmakers site, which showcases the company's Portable Sound collections or accessing a Pro Audio site covering the range of larger systems and Installation Sound Solutions, including the new Cosmo and Contour X lines.
What's more, as of June 2019, all HK Audio products originating from their factory in St. Wendel will display a 'Made in Germany' badge. The new logo will be featured in all HK Audio marketing materials, with a 'Made in Germany' movie also planned to bolster the promotional campaign.