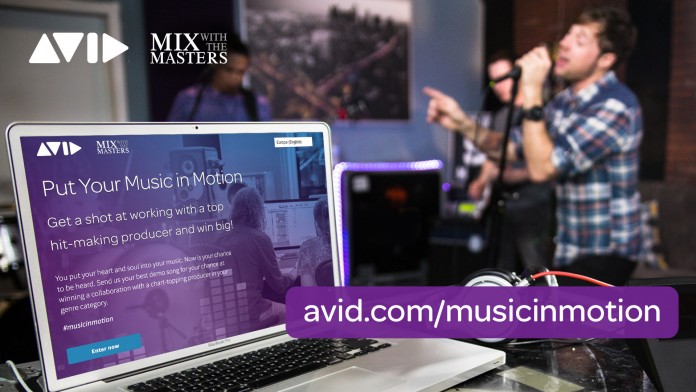 Avid today announced that it has collaborated with Mix With The Masters, an online community and Seminar Series for engineers and producers, to extend Music in Motion with Pro Tools First to aspiring artists in Europe, the Middle East, India and Africa. The contest gives aspiring artists a once-in-a-lifetime opportunity to get session time with a top music industry producer, in three different categories: Songwriter, Bedroom Producer or Beat Maker. The contest delivers on Avid Everywhere by enabling aspiring artists to create professional-sounding tracks using the same tools that the world's top music professionals use.
To enter, contestants need to download Pro Tools First, the free version of the industry-standard Pro Tools digital audio workstation and submit their demo online no later than April 30. Contestants enter their projects in the category of their choice for a chance to work with one of three chart-topping producers.
"We created Pro Tools First to give individuals trying to break out into the industry the same music creation capabilities used by top artists and recording studios worldwide," said Avid Chairman, President and CEO Louis Hernandez Jr. "With this contest now extended to Europe, the Middle East, India and Africa, we're giving aspiring artists the opportunity to work with the best of the best and potentially make their music dreams come to fruition using the free version of the industry-standard audio workstation."
Pro Tools First is simple enough for beginners and sophisticated enough for the experienced musician. Artists can quickly turn ideas into professional-sounding songs by recording, using software instruments, and applying audio effects. To expand their creative toolset further, the integrated Avid App Store provides a world of affordable AAX plug-ins and "First" bundles in the Avid Marketplace that make creating, shaping, and enhancing sounds quick and easy. Pro Tools First also accommodates the mobile lifestyle of artists and aspiring pros, allowing users to save and manage sessions securely in the cloud when logged into an Avid account from any Mac or PC with Pro Tools First installed.