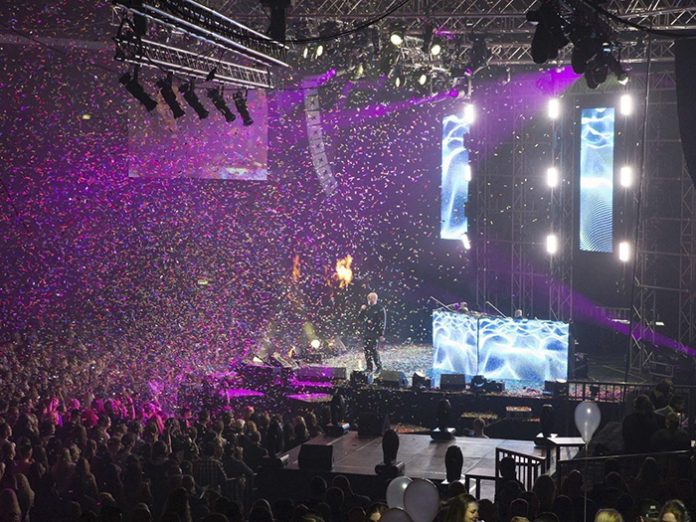 NEXT-proaudio supplied the sound reinforcement setup required to Club Awards in Denmark. The whole sound system for the Club Awards, held on 19 March, was provided by the Danish Rental Company Showtech Event Group.

Showtech increased its NEXT-proaudio inventory two months previously, having purchased a large quantity of NEXT LA212x and Las418 cabinets from the Portuguese manufacturer NEXT-proaudio.

Sound reinforcement for the Club Awards comprised models from the manufacturer's LA Series, with a total of 16 LA212x, 16 LAs418's, 28 LA122 as outfill and delay system, eight LA122W, two Las218's as front fill and DJ monitoring, eight Lam112x as stage monitors were used on this edition of Club Awards happened in Ballerup Super Arena for more than 8,000 people.

This event celebrates the tribute to the Danish clubbing scene with 11 awards from the year for the Danish clubs. the event includes performances of some of the most famous artists in Denmark such as Kato, Alexander Brown, Toomanylefthands // Tmlh, Ude Af Kontrol, Kenneth Bager, Muri & Mario, Visti & Meyland, Dj Martin Jensen, Funkstar Deluxe, Dj Aligator , Jimilian, Hedegaard, Djämes Braun, Morten Hampenberg,Yephayepha, Randers Cowboys, Almost There, Clemens, Bjørnskov, Snavs, Abbaz, Martin Baltzer, Few Wolves, Erik Connie, Lukas Visti, Dj Credit- Danish Dmc Champ, Faustix, Jeppe Loftager, Clara Sofie, Fat Pony, Steffwell, Adhd-Official, Fabian Mazur, Shila Mariposa Just, Electric Lady Lab-Official Page, Moto.

This important event was broadcast on MTV Channel the following week.
Jesper Christiansen, Showtech's Technical Director, said: "Showtech were involved because we are a full service company. The main challenges we had to overcome where the stage design, that meant that people were standing with microphones in front of the main PA system. We are pleased and proud of the project because the sound was very close to perfect. All ready during the sound check with the artist there was a buzz that this was the best sounding that they ever had played on."