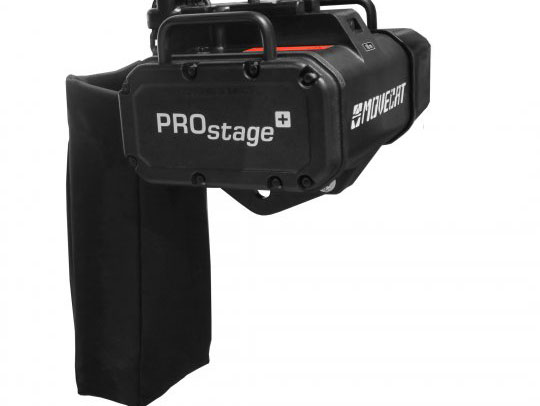 Movecat has developed for the D8/D8 Plus market segments a completely new range of electric chain hoists exhibiting exceptionally high laden-to-unladen weight ratios as well as a new and innovative lifting gear implementation. Movecat achieved the weight reduction partly through the development for the PROstage series of a high-strength chain and gearbox combination as well as an aluminium housing with two handles. The reduced weight of the hoists themselves, of course, means that greater loads can be attached to the rig.
The new hoists, which bear the name "PROstage", reconcile a safe working load of 1,500 kg (D8) with an unladen weight of only 55 kg (in the case of the PROstage D8-18 m), and of 750 kg (D8 Plus) with an unladen weight 57 kg (in the case of the PROstage+ D8 Plus-18m). Dual chain fall operation increases the safe working load to 3,000 kg (D8) and 1,500 kg (D8 Plus) respectively.
The PROstage D8/D8 Plus chain hoist series from Movecat can achieve speeds of 4 m/min and hoist loads over vertical distances of 18 or 24 metres. The hoisting heights can optionally be extended to 60m and further speed options are also planned. The devices can be operated without conversion either as climbing hoists or in a standard installation position. They are equipped with maintenance-free brakes, an integrated operating hours counter, a highly robust, Movecat Special black chain and a flame resistant textile chain bag. Either direct (400 V AC) or remote (24 V DC) control is possible. Thanks to their modular structure, further options such as LME load monitoring, a geared limit switch, incremental and absolute encoders, and temperature monitoring can be integrated, making it possible to adapt the hoists to the needs of virtually any project.
Movecat plans to start shipping the devices in the 3rd quarter of 2017.