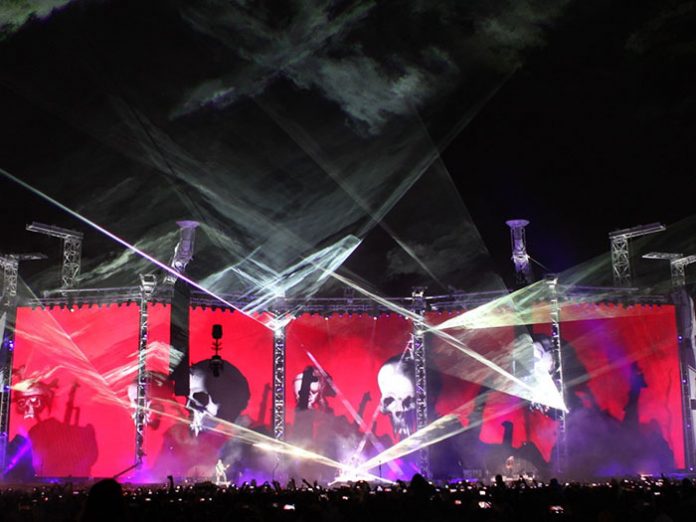 Metallica kicked off their WorldWired stadium tour in the US with a fitting fanfare of lights and lasers. It's been at least a decade since the band last went on the road in North America and their entrance certainly didn't disappoint.
With no roof over any of the stadium stages, gargantuan screens stretching high into the sky and a mind-boggling pyro display, metal's prodigal sons put their trust in Production Manager Dan Braun to coordinate the creative execution of the tour.
Having toured with the band since their Yankee Stadium 'Big 4' show in 2011, ER Productions' co-founder, Marc Webber, worked closely with Lighting Designer, Rob Koenig, to devise a laser scheme that complemented the production design and was versatile enough to accommodate multiple venue changes.
Although Webber had a fairly open brief, the band wanted each song to have a very different laser look and colour scheme, which he choreographed and programmed in advance at the ER Productions demonstration suite outside London before the tour started.
Given the lack of a fixed roof structure, festival setups and a few shows performed in the round, Webber specified two complete laser rigs comprised of 100 Beambursts, 16 Phaenon 30000s and a huge smoke and haze package.
Key laser tracks include Nothing Else Matters, Moth Into Flame and One, the latter of which's intro started with an epic laser war scene. To achieve the effect, ER productions rigged 30 Beamburst fixtures across the stage and 20 onto the delay towers, which accentuated and spread the beams across the stadium. The resulting scene was carefully timecoded in advance to ensure consistent delivery of the segment night after night.
"For WorldWired, we've continued the column design from San Francisco utilising the delay tower to enable us to fire beams in all directions. It's bigger, better and brighter than anything we've done for Metallica before", said Webber.
With 14 more shows in the pipeline, attention to detail and good planning has resulted in a flawless execution and rave reviews.
"Shows performed in the round and festivals have different cabling and laser placements, so we've had to plan ahead to ensure the right gear is paired with the right system in advance. A lot of custom work has gone into the laser production.We created white covers for fixtures so they blend into the white stage and fabricated u-shaped metal work to enable easy mounting of fixtures onto the towers. It's a huge show and we are immensely proud to be part of it," he concluded.