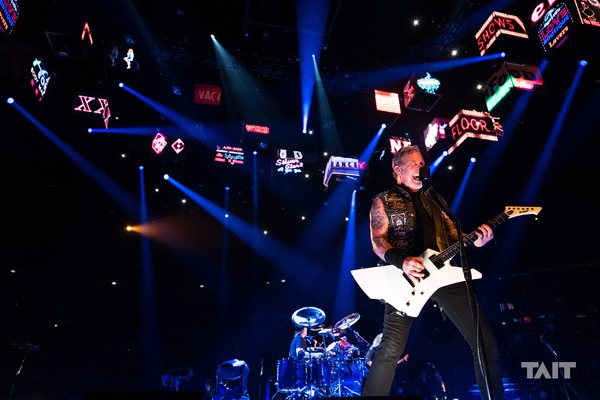 Celebrating Metallica's 10th studio album, the WorldWired Tour debuts the world's first autonomous indoor drone swarm in a major touring act, revealing a new, in-the-round stage design, custom-built by Tait Towers.
The set and stage, designed by Show Director David Braun, gives concert-goers an immersive concert experience with a 44 foot by 44 foot square main stage, equipped with several prop lifts.
The event incorporated 52 LED video cubes which ascend and descend while displaying colourful, vivid and flashy video content. The LED video cubes hang from 52 BT290 winches housed in a 60 foot by 60 foot mother grid rigging system above stage. Each 4 foot LED video cube moves 4 foot per second and has 40 foot of vertical travel space.
Tait Navigator, an entertainment automation platform, serves as the primary show control system for the entire show. For the world's first autonomous indoor drone performance for a major touring act, Tait Towers partnered with Verity Studios to introduce the latest drone technology to the bands Production Manager, John "Lug" Zajonc and Show Director, Dan Braun.
Metallica performs their new single, Moth into Flame, as 100 drones emerge from the prop lifts built into the Tait Towers stage. As the music builds, the drones swarm into several formations and above the band.
The micro drones are 6-inch by 6 inch by 1.4-inch, are equipped with on-board LED Lights and have three speed variations. Each drone has a lift speed of 1.5 metres, horizontal speed of 2.5 metres and a fall speed of 0.5 metres. Verity, the combination of a reliable indoor positioning system with intelligent autonomous drones and a superior operator interface allow Metallica's show operators to simultaneously control the coordinated movements of the drones.
TAIT presented an interactive look book to explain and visualize the assets provided for Metallica's WorldWired Tour. Additionally, Tait Towers met up with Dan Braun to discuss his role as Show Director and the design concepts that inspired the show. Dan's feature on Tait Talks is set to launch on October 10 2017.