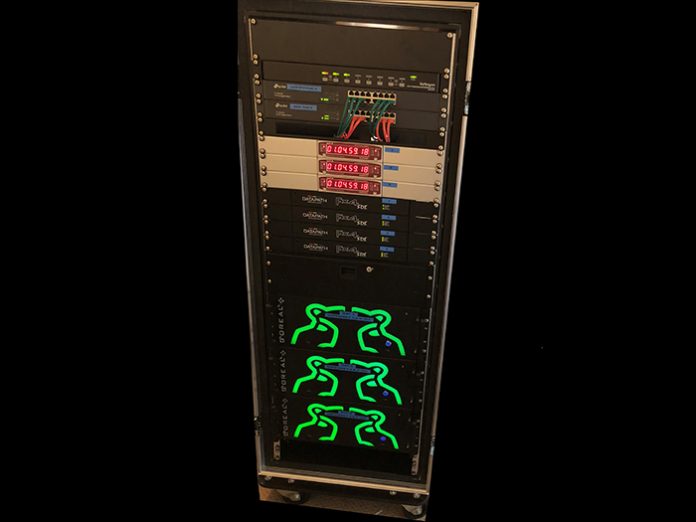 Video production company, Media Flare Ltd. has purchased three Hippotizer V4 Boreal+ Media Servers, extending its hire stock to 9 Hippotizer V4 and Hippotizer V4+ Media Servers to meet demand from its rapidly expanding client base in North America and Asia.
Media Flare's Freelance TV Lighting Designers, Tom Sutherland and Roger Williams have received several Knight of Illumination nominations for their TV work, which includes The X Factor, Britain's Got Talent and Strictly Come Dancing. Overseas projects include American Idol, The Four On Fox, The Voice China, The Singer China. Tours by Pitbull, Adam Lambert and China's largest televised New Year's Eve celebration.
The new Green Hippo Hippotizer Boreal+ are being utilised to provide cutting-edge creative video solutions for overseas television shows, concerts, live events, and a Las Vegas residency.
Sutherland commented: "Our Hippos have never let us down, and with the V4+ models' new features and enhancements providing even more creative flexibility, for us it was the only way to go. It's great that I can rely on a media server which can cover such a range of productions and budgets."
Freelancer Nick Hansen, who has been programming several of Sutherlands shows using the Boreal+ servers, commented: "Hippotizer Media Servers are so user-friendly. The Output Manager side is incredibly powerful and flexible, enabling us to handle things when a show's technical needs can change quickly during production. Also, we are really excited by the potential of Notch, which we will definitely be using on future projects to manipulate content with effects, to fit the music or show we are doing."
When it came to sourcing the media servers, Media Flare again turned to A.C. Entertainment Technologies (AC-ET) Ltd's Video sales division, which had supplied its previous servers. Managed by Video Technical Sales Executive, Chris Beardwell, the Hippotizer Boreal+ Media Servers fitted with Datapath Vision-SDI2 capture cards were part of a complete control rack solution which also included Datapath FX4-SDI 4K display wall controllers, Rosenthal Mif4 timecode interfaces, and cabling from AC-ET's in-house Tourflex Cabling custom cable assembly service.
Sutherland concluded: "It's been such a pleasure dealing with the video team from A.C. again. Absolutely everything has been covered throughout our purchase, and no stone left unturned. We have a fantastic looking Hippo rack that I can't wait to start using. Their support once again has been invaluable."