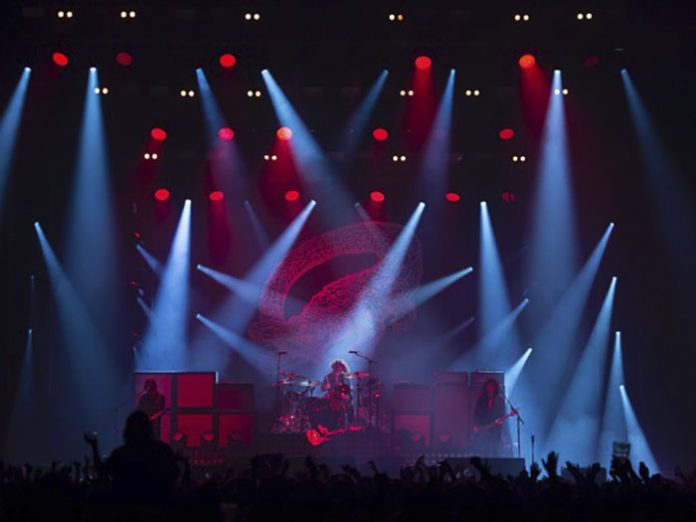 Two MDG ATMe haze generators joined up-and-coming British rock band, Catfish and the Bottlemen, playing medium to large arenas during a three-week tour of the UK in support of the band's second studio album, The Ride.
The band, which formed in Llandudno, Wales in 2007, first had success with their debut album, The Balcony, which reached number 10 in the UK albums chart, since when they have toured the UK, Europe, North America and Australia. The release of The Ride in May 2016 saw the follow up tour visit Derby Arena, Bournemouth BIC, Victoria Warehouse Manchester, Plymouth Pavilions, Glasgow SECC, Wembley Arena and the Ricoh Stadium in Coventry.
Newcastle-based Nitelites supplied the full lighting, audio and staging to the tour and hired the MDG ATMe haze generators from Impact Productions, which purchased two of the models specifically for the tour.
Nitelites, which has a very special relationship with the band, having looked after them for the last three years, wanted to provide the best possible products for the tour, and Nitelites' director, Jamie Moore, knowing he would need a reliable, high performance haze generator, naturally turned to MDG. Moore said, "These guys trust us to come up with the goods for their tours that perform well during the show and are reliable and completely tour-durable. MDG produce the best hazers in the world and, from a rental company point of view, are worth every penny you pay for them."
MDG's ATMe haze generators are renowned for producing the finest haze with the longest hang time from a unit that has added DMX control and extremely quiet noise levels. The ATMe has the lowest fluid consumption on the market and a well-earned reputation for being rock-solid on tour.
Lighting Designer Scott Galloway was happy to use the MDG haze generators on the advice of Nitelite's lighting crew chief Joe Dowling, declaring: "They worked great and I will be sure to spec them again." Dowling's recommendation was based on his previous experience with MDG AtmosphereAPS haze generators on the UK touring production of Chicago. He commented: "the haze they produced for Chicago was perfect in every venue, so I knew the new ATMe machine would be a good option for the Catfish tour."
The ATMe generators were located at stage level, upstage left and right, from where they performed perfectly. "Ironically, we ended up using them in stand-alone mode rather than taking advantage of their variable output and DMX control," said Dowling. "We simply turned them on and left them to fill the room nicely on each show, with the aid of a couple of small DMX operated fans for the larger venues. We were able to just forget about them and the result was a perfect, even coverage of haze, which showed Scott's lighting to perfection."
Dowling was also very impressed with the low fluid consumption of the ATMe units and the quietness of the operation. He said: "The consumption is really good, we took two bottles of fluid on tour but didn't break into the second bottle. MDG has an automatic purge system so the maintenance requirements were minimal – just a clean of the fan and bodywork and they were ready to go back into their MDG flight cases and on to the next show. They travelled easily and started with no trouble each day."