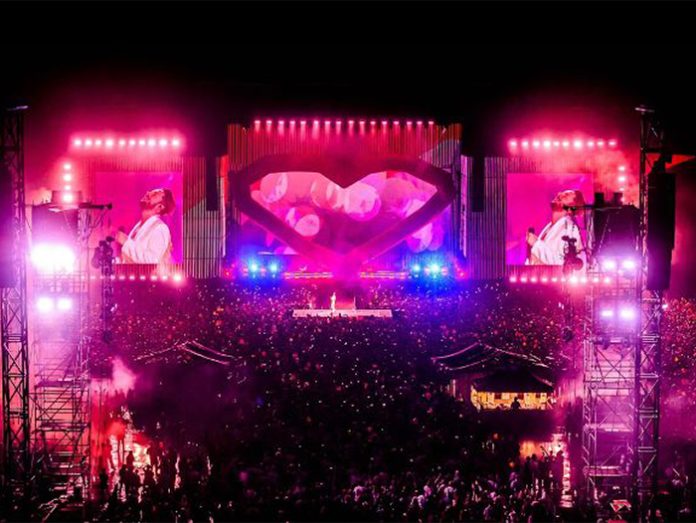 Maxi Gilbert says that he draws inspiration for his designs from opera sets. At first that may seem a bit surprising, since the Madrid-based designer has created lightshows for stars like multi-Grammy winner Alejandro Sanz, and chart-topping Manuel Carrasco. But anyone who sees his work on Carrasco's current Corazón y Flecha tour will readily appreciate the connection.
Like opera itself, Gilbert's design for the 30-city Spanish tour is bold, ambitious, passionate, full of life, and oh so very easy to get swept up in. With it's massive center stage video wall and giant inflatable heart pierced by an arrow (16m wide for most of the tour), and 272 custom-made neon flex lights, the design, which was done with visual director Susana Martinez Allende, creates an immediate, and very dramatic impression.
This sensation is accentuated by the light from 282 other lighting fixtures, projecting a vivid array of colors, pixel mapped effects, and dynamic beams angles that transform the stage deck into a glowing surface, on to the powerful aerials that embrace the entire room.
Show designer Maxi Gilbert and Lighting operator and programmer Fernando Lopez are running this show, which was 37 universes in LX and 1,088 for the Neon, on a ChamSys MagicQ MQ500M Stadium Console. "I first used a ChamSys console in 2014 for Russian Red and Vetusta Morla ," said Gilbert, owner of XLR Estudio. "I was introduced to ChamSys through a lighting op I worked with, who also worked with Alain Courthout. Alain was selling his Maxi Wing, so I bought it from him. And so it began!"
The first time Gilbert used the MQ500 Stadium was on an Alejandro Sanz tour. He found it to be "the most powerful and intuitive console" he could wish for. "This console allows me to accomplish all the lighting tasks needed," he said. "The new software version is so fast and stable; it's invaluable."
Many of the features Gilbert prizes in the MagicQ MQ500M Stadium are coming into play on the Corazón y Flecha tour. "I always look at the new features ChamSys incorporates into its products," he said. "In this tour the new Timecode/Timeline feature has been extremely helpful in ensuring our shows are crisp and smoothly run. We will be relying on this feature in our 2023 designs."
Also valued greatly by Gilbert was the Pixel Mapper feature in his console, as it made it easy for him to assign pixels and images to each fixture in this elaborate rig individually and in selected groups. This feature also makes it possible for him to modify the layout of his pixel mapped fixtures to accommodate different venues on the tour.
Gilbert designed the show in Capture and with his ChamSys. He found the inbuilt MagicVis 3D visualiser of his console to be an invaluable tool, thanks to the vivid and very accurate characteristics of its beam and gobo renderings. This came in handy when he showed renderings of his design to his client. Working with Manuel Carrasco, he was determined to create a show that, like a great opera, soared as high as passion and imagination could take it – and that has proven to be very high indeed!