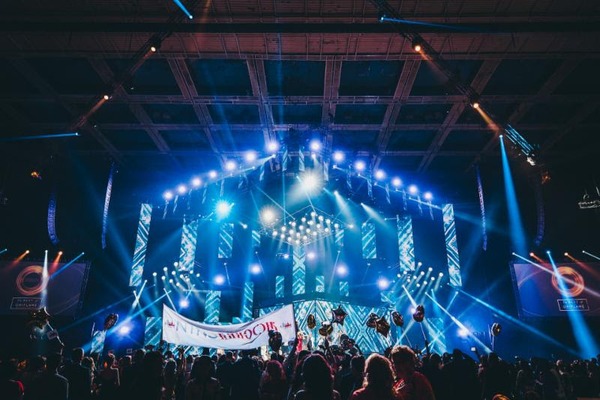 Moscow-based production company MAX \ MAX chose the cutting-edge technology of award-winning beam shaper the Claypaky Scenius Profile to feature a pair of distinct lighting designs for 2 large-scale anniversary events.
Both events, the 50th anniversary of international cosmetic company Oriflame and the 25th anniversary of international footwear company Analpal were produced by the company in early 2017.
MAX \ MAX designed, created and produced the luxurious landmark anniversary event for Swedish brand Oriflame, celebrated at Moscow's giant Olimpiyskiy Stadium (Olympic Stadium). The event was split into 2 main sections, a business conference followed by a formal gala dinner, the Banquet of Directors. The MAX \ MAX team was tasked with creating entirely different lighting looks for each, to follow in quick succession.
"For this production we worked closely with lighting designer Evgenii Juhnevich to create straight and calm lighting looks for the conference on the first day and a dynamic, bright and complex lighting for the Banquet," said Maxim Martynov, CEO of MAX \ MAX Productions.
"We expected good results from the Scenius as we know and trust the Claypaky brand," added Martynov. "Yet we were still surprised by what the fixture could do. As well as being a strong profile light it also works great as a dynamic moving head. The fixture's ability to move and focus swiftly allowed us greater creative potential and versatility during our design phase."
The 2nd event, Analpa's 25th Anniversary, hosted at one of Moscow's live music venues, Tesla Place. For this event MAX \ MAX once again had to create 2 vastly different lighting looks for the evening using the same rig set-up and fixture options.
"This combination of Claypaky fixtures offered us the widest functionality and most powerful collective light output. To build what we called a 'light picture' around the audience, we rigged Sharpys above the entire area of the hall; this immersed the audience into the show. We also then used Claypaky's LED strobe light, the Claypaky Stormy, as a stroboscope, but also as a wash fixture as we are big fans of its bright, powerful light," explained Martynov.
"The main difficulty in creating the lighting plot for this project was the task of combining two completely different types of event," says Martynov. "A fashion show requires accurate lighting and the correct temperature of light for TV and photos. The light show requires dynamic, spectacular effects. That's why we decided to use the Scenius Profile, because its output is perfect for TV and photos. Its profile options and its dynamic show functions also made it a great choice for this event."
MAX \ MAX is a Russian production design outfit specialising in the corporate and live event sectors. The company worked alongside Arlecchino Techno rental company to supply Oriflame's 50th Anniversary event on June 17-18, and Analpa's 25th Anniversary on 12 of August 2017.