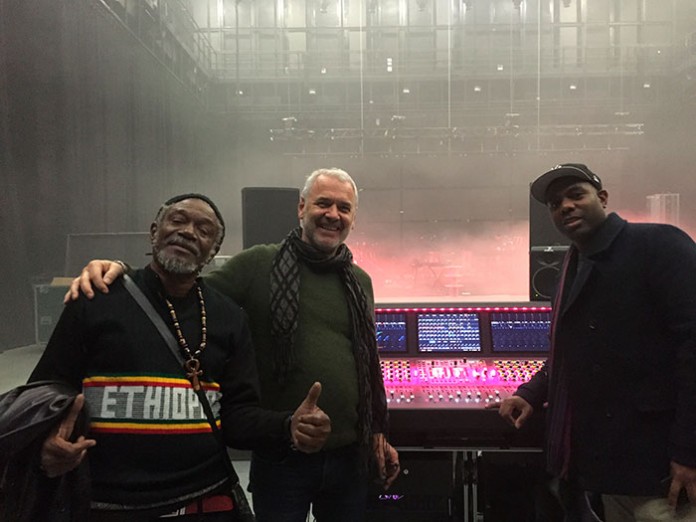 Avid has announced that British trip-hop group, Massive Attack, is the latest award-winning band to take the powerful Avid VENUE S6L live sound system on their UK and European tour. The newest addition to the Avid VENUE family – the most trusted and requested live mixing systems in the world – delivers the next level of live sound production and the ability to handle any multi-continent tour schedule with ease.
The decision to take the VENUE S6L on tour in support of the band's latest EP, Ritual Spirit, was made based on their experience with the compact and powerful Avid S3L-X systems in the summer of 2014. After working with top artists including Coldplay, Manic Street Preachers and Richard Ashcroft, veteran live sound engineer and senior specialist for live sound products at Avid, Robb Allan, returns to the front-of-house helm for Massive Attack this spring.
"The band is very experienced in studio work, so they're always interested in every detail of the sound when we take their latest material out on the road," said Allan. "They really appreciate the Avid virtual soundcheck feature, which allows us to stand at FOH together and adjust every detail of every song to their liking, giving fans a live experience unlike any other. Their live shows always feature a vibrant set that ranges from very calm, tranquil moments to very loud, dramatic atmospheric dynamics, so mastering the perfect live mix is essential. The VENUE S6L gives me unprecedented control at the touch of a button, and puts me in the driving seat right from the FOH."
With the groundbreaking VENUE E6L engine integrated into the S6L live sound console, Massive Attack's unique live productions benefit from two powerhouse technologies working in unison. The real-time processing engine handles all routing, channel, and mixing functions for maximum stability and power, while the HDX-powered DSP engine manages all AAX plug-in processing, enabling bigger, better sounding mixes with ease.
Robb added, "The Avid VENUE S6L offers engineers the most accurate and professional live sound on the market and the greatest flexibility out on the road. This comes from listening to what the industry wants, and the console's fluid integration with Pro Tools is something that many engineers are experiencing wonderful benefits from. The console's compact size and light weight also give users huge cost savings on transportation and storage, which is vital aspect for any live production."