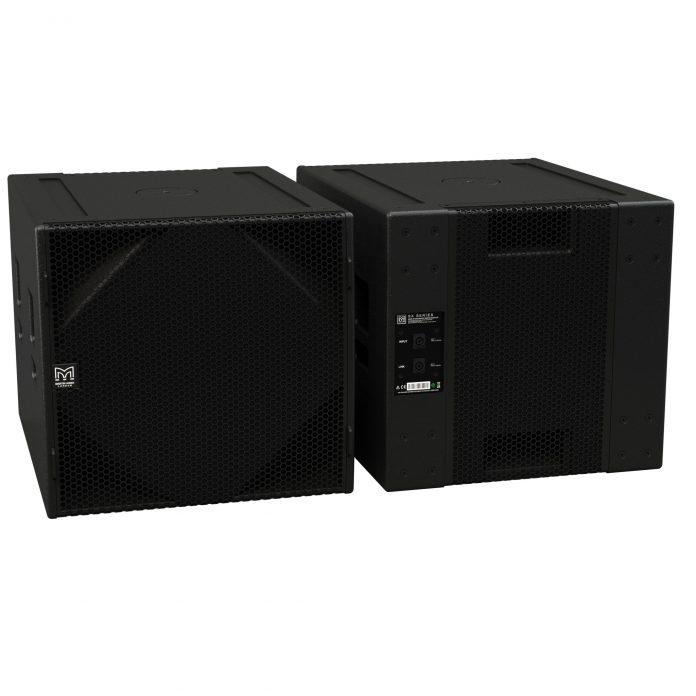 At this year's ISE trade show in Amsterdam, Martin Audio announced the launch of a cardioid subwoofer, SXC118, as part of an overhaul of its subwoofer strategy.
Designed for touring sound and installations, the SXC118 is a compact, high-performance cardioid subwoofer. It features an 18" (460mm) forward facing driver and a 14" (356mm) rear-facing driver, each driven independently by separate channels and DSP from an iK42 amplifier. Each driver has its own chamber with optimised bass reflex porting.
This arrangement produces a cardioid dispersion pattern which maximises the front radiation and reduces unwanted radiation behind the subwoofer. The recommended iK42 amplifier optimises the DSP parameters for front and rear drivers to maximise the rear rejection — from 21dB at 43Hz to 28dB at 75Hz. In front of the enclosure, the output from the two drivers is additive, giving an extra 2dB of output when compared with a conventional 1 x 18" subwoofer.
Dom Harter, Managing Director, explained further; "The benefit of this cardioid subwoofer is the ability, as standard, to focus more bass where you want it and have less go where you don't. That can mean keeping bass away from neighbours, off stages, away from turntables or keeping it from reflecting off walls and causing destructive interference elsewhere in a room. In the case of SXC118, it delivers more punch and significantly more control over a standard single 18 subwoofer."
The enclosure is constructed from plywood and finished with a hard-wearing textured paint. It is equipped with four grab handles, and foam-backed perforated steel grilles protect the front and rear drivers. It can be used individually, stacked or flown by means of threaded flying inserts
The SXC118 is an ideal partner for WPM line arrays or point source loudspeakers where low-frequency pattern control is required. Interlocking skids prevent movement when stacked and a threaded plate in the top surface facilitates pole-mounting of up to four WPM enclosures or a single point source enclosure. With the weather kit accessory, the product can also be installed outdoors.
The SXC118 launch is also part of a wider subwoofer strategy overhaul by Martin Audio.
Harter explained, "For the last ten years, each time Martin Audio has produced a new range of loudspeaker enclosures they have typically also launched a matching subwoofer line up. This has inevitably led to unnecessary duplication and confusion for the user. We have now introduced a very clear strategy to benefit our customers and end users. At the entry level we have our range of BlacklineX subwoofers and at the premium end, we have our MLA system self-powered subwoofers. For everything in-between, we now have an SX Series of subwoofers designed to meet the multitude of installation and live sound applications, including everything from a single slimline 10" subwoofer all the way through to a double 18" Hybrid® horn loaded/reflex subwoofer to complement our complete line up of loudspeaker enclosures."