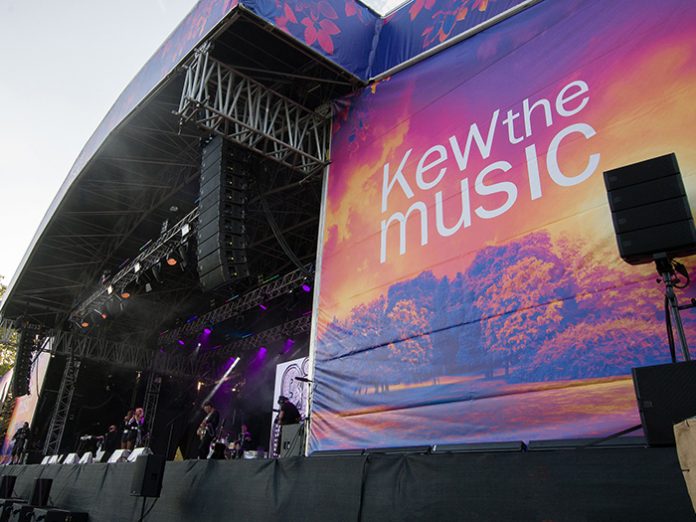 Kew Gardens in south-west London, containing the world's biggest Victorian glasshouse, provided the backdrop for the facility's annual 6-day music festival, Kew The Music 2018.
For the past 4 years the rental company, Capital Sound, and its loudspeaker partner, Martin Audio, have enjoyed a growing presence on the site.
Working with the promoter, Stuart Galbraith from Kilimanjaro Live, and Production Manager, LarMac Live director Ian Greenway, they tailored the sound system for the unique clientele that typically brings picnics and folding chairs to the Royal Botanic Gardens to witness a succession of concerts.
Despite having a number of Martin Audio's premier MLA systems on duty simultaneously, Capital Sound was still able to provide the necessary Martin Audio premier hardware to guarantee even coverage down the awkwardly long, thin site, tapering off from a wider field at the stage end.
The sound was carefully programmed by Chris Pyne, who was doubling as system tech. Capital flew 10 Martin Audio MLA Compact elements each side of the stage, with a flown hang of 6 Martin Audio MLA Compact infilling at stage right and a smaller Martin Audio MLA Mini ground-stacked stage left to serve the picnickers out on that flank. 4 Martin Audio DD12's across the stage provided nearfield coverage for those who wanted to get up close and personal with the broadside cardioid array, which comprised 14 WS218X subwoofers.
Several delay points were set, the first mast off to house left comprising 10 Martin Audio MLA Compact. Further down the park at 20 metres from the mix position, a second delay comprised an MLA ministack and MSX sub-combination, and 30m beyond that was a further ground-stack of four MLA Compact.
Speaking of the design, Capital Sound Account Manager, Martin Connolly stated: "In view of the odd shape, this created the perfect coverage solution and mitigated the shadows caused by the trees further back.
"Those who attend this festival generally want to experience the artistes as they would on their hi-fi at home, and the system design ensured that this happened."
Capital fielded an experienced crew. In addition to Martin Audio's Chris Pyne overseeing FOH, Joseph Pearce was assigned to a similar role down at the stage, Pete Hughes was crew chief and Tom Gardner was stage tech.