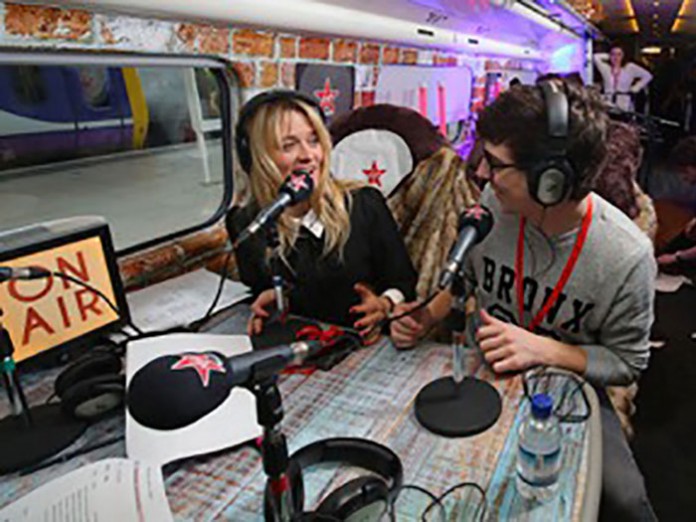 Plenty of excitement surrounded the high profile re-launch of Virgin Radio on the DAB digital radio platform, with an exceptionally strong presentation team, a great music and entertainment policy and all the ingredients to repeat the ratings success it enjoyed in the nineties and noughties.
Event technical production specialist Maestra London was asked by live event and TV producers TBI Media to provide creative lighting for the inaugural broadcast which took place aboard a Virgin train running from Manchester to London. It was hosted by Virgin Radio presenters Edith Bowman and Matt Richardson complete with special live sets from a number of excellent bands including The Feeling, Travis, Mystery Jets, Walking on Cars and Gavin James.
Maestra's Jack Jury designed the lighting and project managed this aspect for east London based company. They rose to the challenges of installing a lighting rig on a train – a first for Maestra – which involved meticulous pre-planning as well as considerations like choosing lights that both looked good, and were expedient on power consumption. The lighting fit-up took place at the Virgin Trains depot in Wolverhampton. The train then journeyed to Manchester, met the Virgin Radio broadcast team, artists and performers, around 200 invited guests plus amassed media. It then commenced its 200 mile run down to London, stopping at Rugby and Birmingham on the way for special additional performances.
One of the carriages was adapted as a performance space for the bands, for which Jury also sourced some battery powered LED soft-lights that were perfect to light the space for cameras / recording, and small and light enough to be rigged to the luggage racks. Five EncapSulite florescent light-sticks were used to provide camera-candy and atmospheric lighting for the performance area which were powered from the train's on-board mains. 12 CORE Lighting ColourPoint2 wireless LED up-lighters were an obvious choice – due to their complete transportability – for the main broadcast carriage to graze up and colour the sides of the space, The tidy-sized system flight-cases were easily stowed in the train luggage racks, and the lights didn't pull any electrical resources from the train!
Supplied to Maestra London by Wireless Lighting, these were controlled via a battery powered hand-held remote which was ideal as there was no room for a lighting control position.
The biggest challenge was not in the actual lighting design or installing the kit on the day, it was combining the practical requirements of lighting the event with the administrative ones of working in the context of a commercial railway environment. This entailed the presentation of rigorous health and safety documentation and huge attention to detail in advance. Only once all this was approved did the task begin of finding the best and most appropriate lighting solutions.
Jury said: "It was a fantastic event with which to be involved and we really enjoyed the idiosyncratic location and the challenges and learning curves. Above all it was a pleasure to work with Louise Segal and the team from TBI on such an interesting project."