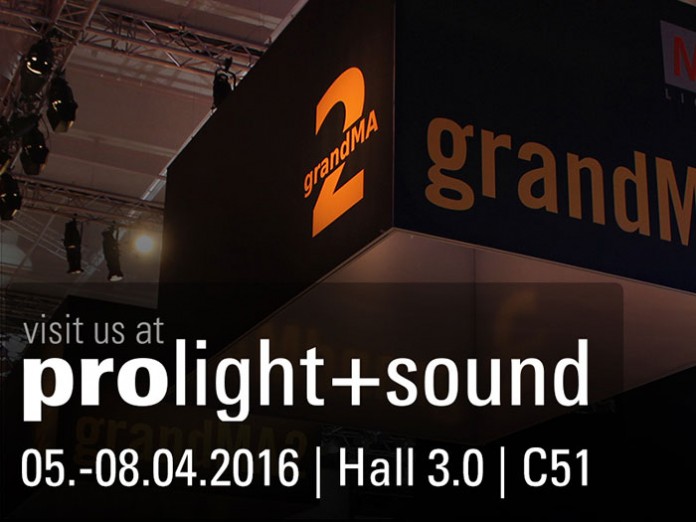 At this year's Prolight and Sound Frankfurt exhibition MA Lighting is dedicating a whole booth to its dot2 lighting control solution and features new software release version 1.2, driving the success story of MA newest product range. Multiple hands-on dot2 console stations will be available for users to familiarise themselves with the new software. Software version 1.2 adds lots of detail with respect to the overall workflow and makes the user experience even more intuitive. Customisable layout views, multi-patch for fixtures including dot2 3D, assignable DMX ports, Auto-Backup functionality, Effect Markers, Effect improvements and lots of other enhancements are now included. Come along and see the latest additions for yourself.
With a comprehensive set of connectivity hardware on all console models, the dot2 range is suitable for most theatre, touring, corporate, television and education lighting environments. The easy to operate dot2 software is available in multiple languages and provides on board Help and Direct Hints to guide a new user to operate the console to its full potential. A full range of clever programming and playback features provide intuitive access to advanced functionality.
Another adjacent booth of MA Lighting is dedicated to MA's flag-ship lighting control range; grandMA2. A pre-release of the upcoming software candidate version 3.2 will be on display. Main features are RDM with MA Nodes, Bitmap Effects, Internal Timecode Generator, full implementation of Web Remote, Workflow Improvements, MA 3D improvements, MA Network Switch integration as well as a full new Codec implementation for the MA VPU and new Pixelmapper Playback Priorities.
Another highlight this year will be the brand new MA Network Switch, which radically reduces the setup time and the level of complexity to achieve an optimised lighting network. In combination with the MA consoles and additional MA networking devices the MA Network Switch provides a very easy to use solution, even for complex lighting systems, incorporating the hardware and software stability MA Lighting is famous for. MA Lighting's team of product specialists will be on site to answer all questions and to show all of MA's system components in depth.