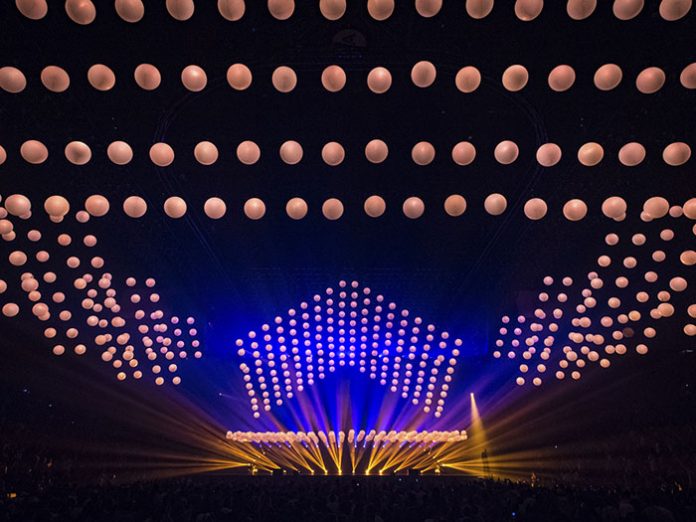 Guy Pavelo has chosen MA 3D and grandMA2 to create complex LED lighting effects for Drake and Future's Summer Sixteen tour. It featured 780 moving LED spheres, which were previsualised in MA 3D and controlled by grandMA2 consoles to create abstract and figural lighting effects that delighted fans. A.C.T Lighting is the exclusive distributor of MA Lighting products in North America.
"Every year Drake tries to push the boundary, and this show was about as big as you can get with hanging lights in an arena," said Guy Pavelo, Drake's Lighting Designer for the last five-and-a-half years. He and Steve Kidd served as Creative Directors and Production Designers for the tour; Pavelo also travelled with the artists acting as Lighting Programmer and Operator on the road.
The LED lighting effects were prompted by an inquiry from Drake's team, which had seen examples they liked on YouTube showing art installations and public spaces abroad. "But most of those examples were time-lapse videos and they wanted real-time lighting effects in the arena," Pavelo explained. "I had seen a video of a real-time demo installation for BMW and knew the concept would work, but nobody had done anything as large scale or as intricate as an arena show before."
Glow Motion Technologies and Kinetic Lights were enlisted to provide the LED spheres and the DMX-powered winches, respectively. In each arena 780 basketball-size plastic spheres, with 3-cell LED chips inside, were suspended from winches and independently programmed to form abstract, random-style patterns or coalesce into figural shapes: a question mark, a dollar sign, a stylised butterfly, sine waves. The LEDs could also change their colours and display patterns.
"We had 190,000 pounds of hanging weight, and the spheres moved on the winches at about six feet per second, almost as if they were truly falling out of the air," said Pavelo. "The spheres extended from the edge of the curved video-wall upstage all the way to the front of house."
A long-time grandMA user, Pavelo brainstormed with Will Murphy and a "fantastic" team from A.C.T Lighting. They collaborated via phone and email to explore the use of MA 3D, the powerful tool to visualise and design three-dimensional stage layouts. "I thought that MA 3D would be one of the keys to executing the concept," Pavelo said. "But it was going to be a daunting task to customise the software to this project. Will and his team spent weeks editing the profiles and building up the steps to group the spheres and move them according to the library of ideas we had. The guys were very interested in working on something new and different, and we knew we could count on their full support. A.C.T has always been there for me, and this was no exception."
With 3D spatial accuracy they choreographed the spheres' motion, colours and patterns then demo'd the results for Drake's team so they could pick out the effects they preferred. "That saved us weeks of programming on site and took a lot of tension out of a complicated production," Pavelo reported. "We were even able to write all the positions for lower trim heights in some of the arenas – and it worked perfectly."
On the tour Pavelo deployed two grandMA2 full-size consoles to control the lighting, video and winch automation. One desk served as the master trigger with 150 universes. A grandMA2 light acted as the tech console.
He also used 48 Clay Paky Sharpy fixtures. A.C.T Lighting is the exclusive distributor of Clay Paky lighting in North America. "They were mixed with the spheres out in the house to give a club-like atmosphere to the arenas," Pavelo explained.