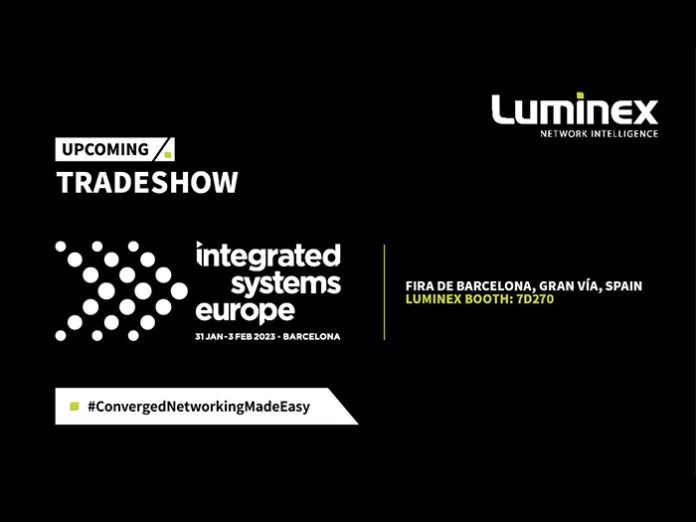 Luminex will showcase the latest developments in Araneo software and GigaCore switches at ISE 2023 in Barcelona.
The latest developments represent a significant advancement in converged networking, to seamlessly integrate lighting, audio and video data into a single network infrastructure.
This innovative solution has the potential to revolutionise and simplify the way professionals work, by providing a more efficient and cost-effective way to manage AV systems.
Converged networking is the integration of multiple applications, such as lighting, video, and audio, onto a single network making the most efficient use of your infrastructure investment and provides better control and coordination of the various protocols. It is becoming increasingly important in the AV industry as it allows for a more seamless integration and a unified experience for users, regardless of manufacturer, device or technology.
One of the most important factors of converged networking is coexistence. Without coexistence, different systems and devices would not be able to live with one another on the same network, resulting in a fragmented, poorly coordinated and more expensive experience for the users. Luminex GigaCore is an ethernet network switch range that is well suited to support converged AV networking.
The GigaCore switch range, with its latest addition, the GigaCore 30i, is fully validated in real-world applications with major brands in the AV industry for different protocols, including AVB/Milan, NOi, Dante, AES67, ST- 2110, IPMX, MA-Net, sACN and many more. GigaCore technology allows you to run a multitude of time sensitive (PTP vl /2, gPTP) protocols on the same network infrastructure without compromises and without any IT configuration or knowledge needed.
Luminex Araneo, a network-wide AV management software, allows for monitoring and configuration of AV networks, including trouble shooting issues, and monitor network data traffic. Araneo also provides a complete graphical overview of a GigaCore network, showing connections between devices, data flows and potential problems in a simple, clear and graphical manner.
The latest version of Araneo vl .5.0 comes with a unique health check feature that provides an extra layer of assurance in performance and consistency of the network. This feature allows users to easily identify and resolve network issues by automatically checking several critical parameters such as VLAN ID's, IGMP settings, Group names, firmware versions and more, giving confidence to the user that all settings on all individual switches inside the network are consistent to one another.
"We are excited to offer Araneo and GigaCore as the ideal AV networking solution for our partners," said Bart Swinnen, CEO of Luminex Network Intelligence. "This solution provides the perfect combination for converged networking in the AV industry, ensuring a high­ quality experience for users and making it easier and cost efficient for AV professionals to manage and control their networks."