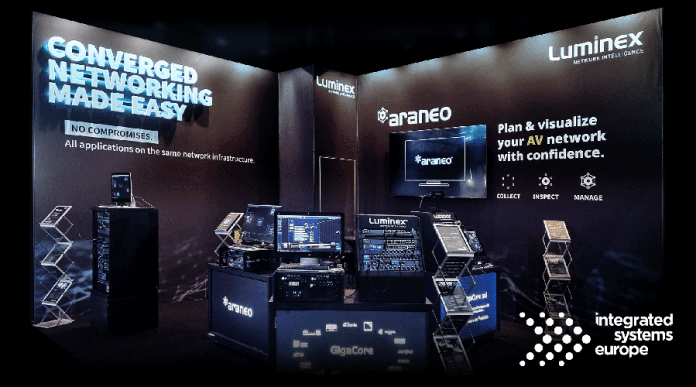 During ISE 2023, Luminex showcased GigaCore switches and Araneo software in an expanded interoperability setup with many standard Pro AV networked devices, effectively demoing how these solutions coexist in one network and are perfectly suited for the growing trend of converged networking in the AV industry.
Converged networking, which combines lighting, video, and audio applications, into one single network infrastructure, is becoming increasingly important as AV systems become more integrated and connected. The coexistence of different protocols in converged networks are more necessary than ever before for AV professionals as it provides a more efficient and cost-effective way to handle increasing amounts of multimedia traffic on the network. A Converged network improves network performance and reduces costs by eliminating the need for separate network infrastructure for every type of traffic. Luminex's GigaCore switches combined with Araneo software provide a powerful and reliable platform for converged networking, allowing AV professionals to easily manage and control multiple types of devices and systems.
Luminex GigaCore switches have been specifically designed for the Pro AV industry. They offer high-performance, low-latency, and reliable network solutions that can handle large amounts of network traffic generated by Pro AV applications. The GigaCore 30i in particular is ideal for a converged network as it is fully validated in real-world applications with major brands in the AV industry for protocols, like AVB/Milan, NOi, Dante, AES67, ST-2110, IPMX, MA-Net, sACN and many more.
The Araneo software application provides a comprehensive AV network management solution that enables the user to easily configure, monitor, and troubleshoot their network in one view, and without any IT-configuration or -knowledge needed. With the Araneo online mode and health check features, users can easily detect and resolve issues in real­ time, ensuring that the network is always performing optimally.
"Luminex's products and software are ready for converged networking, providing customers with a complete and robust solution that meets their needs and exceeds their expectations." said Bart Swinnen, CEO of Luminex Network Intelligence. "Luminex is committed to continuing to innovate and provide the latest technologies for the AV industry. We believe that converged networking is the future of the AV industry, and we are proud to be at the forefront of this exciting development."
To conclude; ISE 2023 was a fantastic opportunity for Luminex to showcase their latest developments and to engage with the industry's leading professionals. We look forward to seeing you all at the Prolight & Sound Frankfurt coming April, where we will continue to present our latest solutions to you.