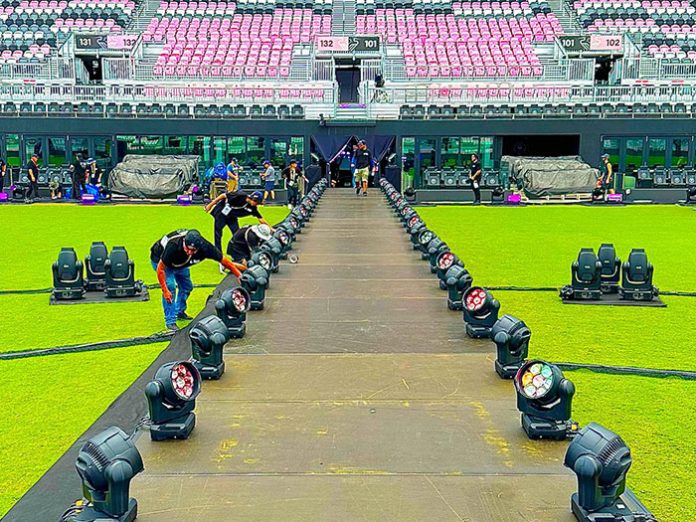 Lining the 100ft-long runway that Messi and his family walked down to greet fans and transforming the stadium with aerial effects that worked in concert with pyro displays, the lighting set a mood that was New Year's Eve, Super Bowl halftime, and world championship celebration inspired.
Helping to create this heady atmosphere was a colourful lighting design from José Laria, Lighting Designer, Andres Albornoz and the entire team at LPS Production that drew on the output of over 100 CHAUVET Professional IP65 rated fixtures.
"Our goal was to create a set that looked like big and award-show like," explained Gerardo Rodriguez, of the LPS team, which included Programmer, Nesmar E. Medina and Crew Chief, Anthony Bolano. "Andres created a beautiful set that allowed us to develop this look quickly and Nesmar brought the set to life with plenty of eye candy and saturated colours throughout." Rodriguez commented.
Providing much of the light were Maverick Storm 4 Profiles, which were positioned over the goal posts, Maverick Storm 2 WashBeams arranged on the centre field grass, and Maverick Storm 1 Washes on the B-Stage and VIP area.
In addition to the Storm fixtures, the lighting rig featured 48 COLORado PXL Bar 16 motorised battens, which provided a defining visual element around the main stage, and 24 Color STRIKE M motorised strobes that lined the edges of the field.
"Using the Color STRIKE M as audience blinders and painting the whole audience with colour really brought the crowd into the celebration," continued Rodriguez. "Also using the ring and the built-in macros on the Storm 2 WashBeam made for some superb looks with ease of programming."
Rodriguez also valued the IP65 rating of the fixtures. "South Florida is notorious for thunderstorms and evening showers specially this time of the year," he commented. "We wanted to ensure that regardless of the elements, the equipment would survive."