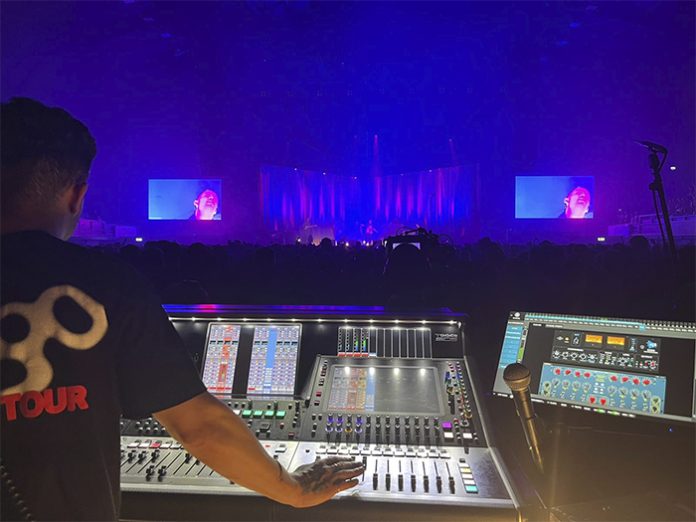 Loyle Carner played his biggest hometown concert to date with equipment, technical support and personnel from Britannia Row Productions.
FOH Engineer INBLOOM and Monitor Engineer Michael Njuguna have been integral in the development of BRIT Award nominee, Loyle Carner's, step into full band and production touring.
"This campaign centres around the new record Hugo, a real shift from his previous albums and DJ tours," stated INBLOOM.
This shift delighted critics; the album scored multiple 5-star reviews, with the Guardian declaring it 'a beautiful, blistering masterpiece.'
Working closely with Musical Director Avi Barath and a new five-piece band in combination with playback, Hugo sees the rapper move seamlessly into a new and exciting era of live performance.
"Overall the show marries two characters; the former being light, bouncy and abundantly youthful and the latter wiser and darker," adds INBLOOM, noting how the rapper has progressed artistically.
"There's a large element of unspoken trust between myself and Avi. I had an idea of how I'd like to shape things at FOH, and what tools I would need to do so," he continued. "I met Brit Row tech, Oddyseas Sofianopoulos, on another tour last year and he spoke at length about what Britannia Row could offer our production."
Reassured by Brit Row's vast inventory, ongoing support, and the consistency provided by Account Exec, Ed Shackleton, INBLOOM chose a rig that centres around DiGiCo; an SD12 for the smaller venues, Quantum 5 for the large-scale Wembley production.
"I use four UAD Live-Racks for my channels and group processing via inserts from my console. The processing comes from the UAD system, which is doing 80% of the mix and is static.
"I also have Waves inserted on a handful of channels via two Waves Extreme C Servers which allows final corrective processing using Torque, C6, and Vitamin plug-ins. This is where the main channel processing for the Wembley guest vocalists took place. We had eight guests on stage, so flexibility was incredibly important."
For Carner, the vocal has a different processing path via the analogue domain.
"His vocal runs through a Neve 5045 Primary Source Enhancer to a Hazelrigg VNC (Tube Preamp and EQ) and then to a Hazelrigg VNE (Tube compressor). Outside the Quantum 5 and UAD/Waves systems, I have a Neve 5059 summing mixer, summing groups from the console to two stereo busses, (all instruments and vocals) which both add a healthy amount of drive via the 'Silk' feature," continued INBLOOM.
"Both busses return to the console, where I have additional UAD processing on the instrument buss (for final glue via API-2500 and Pultec EQ). Both vocals and instruments sum together on the final mix group with UAD's Shadow Hills Mastering Compressor, Chandler Limiter Curve bender, Oxford Limiter inserted."
He furthers: "The mix then leaves the digital domain via AES to a Cranesong HEDD192 which does the DA/AD conversion allowing me to insert my analogue Bettermaker Mastering Limiter across the HEDD192. The Bettermaker open's up the mix with its M/S function, and is set to provide a maximum of 0.25dB of soft clip across the mix. The final stage is the drive section of the HEDD192 where I dial in both even and odd harmonics to the mix along with a subtle amount of tape emulation. The cumulative effect of all the processing, especially in the realm of harmonics, makes for an incredibly controlled, colourful and exciting mix."
For microphones, it's Shure KSM11's for main and spare via the Shure Axient RF system.
INBLOOM goes on to explain how Brit Row's vast equipment helped to make these decisions: "Britannia Row were kind enough to provide a good selection of different capsules for our guests to try in production rehearsals. We quickly settled on KSM11's for rap vocals (Knucks, Eric the Architect), DPA D:Facto for both Olivia Dean and Jordan Rakai, SM58 capsules for JNR Williams and Athian Akec."
Bringing in a full PA for the first time on the tour, Wembley called for Brit Row Systems Engineer, Sergiy Zhytnikov's expertise. Opting for main hangs of L-Acoustics K1 over K2, with KS28s flown behind in a cardioid configuration and K2 side hangs, Zhytnikov placed cardioid subs on the ground in a delayed arc, with A10s and A15s for front and out fill needs. Completing the design were K2 side hangs, and K2 delays positioned behind FOH.
"The system was driven in redundancy AVB via P1s, which were used as a matrix to ingest support desks as well as driving the analogue backups," says INBLOOM.
"Tuning was through the M1 platform of the P1, and system amplification was via L-Acoustics LA12Xs. Sergiy did an amazing job in setting this up – especially under the time pressures of the day!"
In monitor world, engineer Michael Njuguna advocates for high levels of trust between artists and monitor crews, especially in the largest venue on the tour.
"As this campaign was Loyle's first time performing with a live band, ensuring he is comfortable has been a primary concern. And, once I know someone on a personal level, it's much easier to understand what they'll need on stage."
Mixing 16 separate mixes at Wembley, differing from each guest musician's choice of in-ears, stage position and tonality preference, Njuguna has also chosen DiGiCo control.
"SD12 is my desk of choice and I use a UAD live rack for some extra plug-ins, Shure PSM1000s for in-ears and d&b M4 wedges. I've been very impressed with the UAD plugins, they are incredibly stable. I've started using Cosmic ears CE6P, and they're fantastic too.
"Typically, the band only uses in-ear monitors for most gigs. However, for larger shows such as Wembley, I've started to incorporate wedges as they provide a more intimate connection between the band and their instruments by allowing them to feel the air movement around them," he says.
Like any major London performance, Njuguna explains how he handles the pressure to deliver.
"It's very important to trust your programming, stay alert to cues, and keep an eye on people's body language. Most importantly, I try to enjoy myself! It was an incredible experience working alongside such a talented and dedicated team, and the show was a tremendous triumph.
"The support we received from Britannia Row was fantastic; it's probably the best I've had from any audio vendor in my career to date!" he adds.
In closing, INBLOOM agreed: "We couldn't be happier with our relationship with Britannia Row and Ed Shackleton. They have shown us a lot of generosity and patience as we've built this show. We feel truly looked after, which gives a cushion of support as we take on festival season… and our biggest shows to date!"