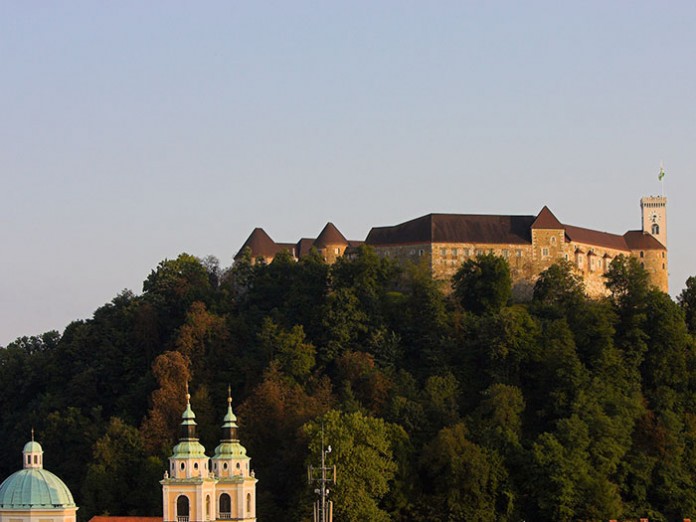 Ljubljana Castle – a top tourist attraction in the beautiful Slovenian capital – has added more Robes to its lighting inventory with the purchase of CycFX 8s, LEDBeam 100s and six Robe LightWare HO battery powered up-lighting LED units, complete with integrated charging case.
The Castle sits majestically above the city and defines the skyline. Originally the site of a medieval fortress, its present outline dates back to the 15th century with the majority of the current buildings constructed during the 16th and 17th centuries. In addition to being a place of great historical interest, it's also a busy event space with several stunningly converted spaces tastefully mixing historical and contemporary architecture. Its multiple venues are used for an eclectic mix of conferences, meetings, presentations as well as theatre and music productions. A new small theatre has just been opened, there are two exclusive wedding venues and another space – the Hribar Hall – is scheduled to come on-stream soon. There's also a large courtyard which is active for shows during the summer, and the whole Castle environment is a veritable hive of activity!
The latest Robe purchases were specified by technical manager Tomaz Novak and supplied by Robe's Slovenian distributor, MK Light Sound. Novak already knew from his experience of the previous Robe and Anolis products – 36 x LEDForce 18 LED PARs and Anolis CitySource 96s units lighting the building's exterior, both in use every day – that the new fixtures would be reliable and high quality. The new kit will be moved between the venues as and when it's needed. Both of the Castle's new venues are located deep in its walls and have low ceilings, so they wanted fixtures to suit. LED was a sensible choice for its long life, low maintenance and value for money.
The power and excellent zoom of the CycFX 8s enable the spaces to be painted with sheets of coloured light, and they are also handy for tucking into window niches and the myriad of other nooks and crannies and idiosyncratic places encountered in castles. The LEDBeam 100s are small, light, neat and fast moving, quick to set up and can be squeezed into pretty much anywhere, so they are ideal for all the venues at the Castle.
They purchased these complete with lens kits. The LightWare LED up-lighters are also perfect for the venue as there are plenty of places that need lighting, where there is no convenient electricity. Quick and simple to set up, they can be set up and controlled via the Lumen Radio wireless DMX that is used for the exterior Anolis fixtures. The combination of Robe's LiteWare RGBW Battery Uplighters with Wireless DMX is a truly stand-alone solution offering up to 34 hours of permanent use from the integral battery. Full RGBW LED colour makes them perfect for lighting multiple locations in and around the Castle.
"All the lighting we use here has to be flexible and adaptable," underlines Novak. At least one event per day is staged at the castle – not counting exhibitions – of which they accommodate 20 – 25 per year.The Castle has been an MK Light Sound customer ever since its potential as a venue started being developed and an excellent relationship exists, together with fantastic service and technical support. Novak works on-site with a team of three multi-tasking technicians and three stage hands who, between them, co-ordinate all the lighting, sound and AV requirements and also take care of set building and installation, trussing, staging, IT and even the furniture – a full event production service.