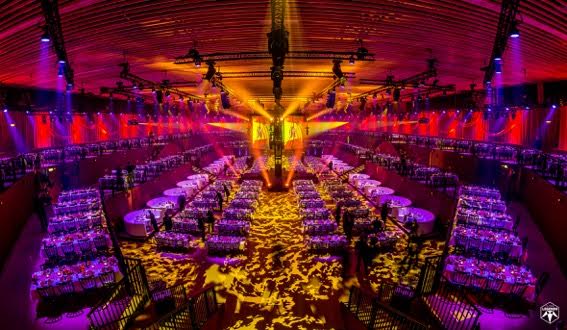 d3 Technologies is pleased to announce that the Amsterdam-based Live Legends has recently upgraded its entire fleet of d3 4x4pro media servers with Video Format Conversion (VFC) quad DVI output cards.
Live Legends, formed earlier this year by the merger of The Unit Showcontrol and content creator LiveLAB, is a d3 rental partner as well as d3 Studio offering a full d3 workflow as its in-house solution for pre-production and production of live events. Having collaborated on many global productions for major marketers such as Heineken, Nike, KLM, Disney, Tommy Hilfiger, Mercedes as well as musicals like Moeder Ik Wil Bij De Revue, Das Wunder Von Bern and The Bodyguard, forming Live Legends was the logical next step towards realising their international ambitions.
"With the merger we now have everything in-house: more producers, video operators and content direction so we can offer our clients the full scope of creative concepts, content, lighting and set design, and showcontrol in our studio or on location," said Live Legends' creative director Daan Oomen.
Live Legends turns to its roster of d3 media servers for the "stability, creativity, speed, capacity and support" the systems provide to productions, says media server/video specialist Dave van Roon. "d3 is easy for me to use; I don't know of a system I would prefer over d3."
Van Roon finds d3's hierarchy, timecode read-out, quantizer, version control, footprints and dynamic soft edge features especially helpful. "d3 offers an integrated UV workflow, quick projector calibration and solid interfaces with different systems," he said. "And we can use the same system for previs and playback, which really speeds up the creative process and helps sell the project."
Live Legends has just completed an upgrade of its entire fleet of 15 d3 pro media servers. An industry first, VFC cards add value to Live Legends' d3 investment by providing the ability to gracefully transition from HD to 4K. The quad DVI card enables users to drive up to 16 HD (1920×1200) or four 4K Displayport 1.2 outputs from a single d3 4x4pro system so large, multi-projector shows can be delivered with fewer machines and no downstream splitter devices. Drastically reducing cost, rack space, set-up time and complexity without adding signal latency.
"The support from d3 has been brilliant," said van Roon. "We have been working with d3 for a while now and have direct contact with the development team, too."
For a couple of years now, Live Legends has deployed d3 systems on "Julia," an innovative symphonic show for the Rotterdam Philharmonic Orchestra; the Dutch musical adaptation of the 1992 film "The Bodyguard;" the 95th anniversary celebration for KLM Royal Dutch Airlines; the inauguration of Pioneering Spirit, the world's largest platform vessel from Allseas; and the Royal Netherlands Air Force Open Days event, just to name a few.