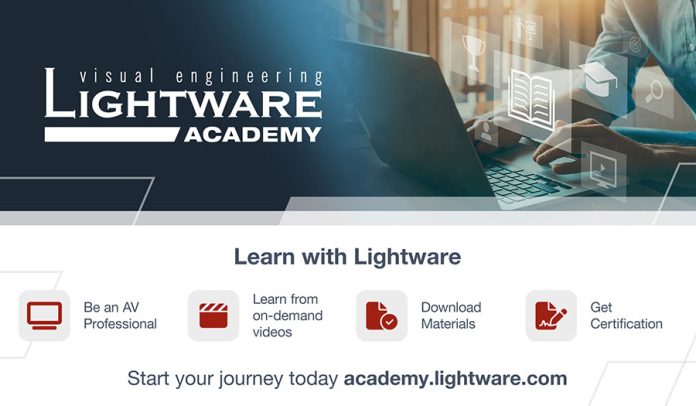 Lightware Visual Engineering has launched Lightware Academy – a new free certified e-learning resource for students and professionals.
Lightware Academy is open to everyone and provides industry-leading content curated by a breadth of seasoned professionals in the area. Participants can enrol in more than 10 courses, organised into three core categories:
Traditional AV, AV-over-IP and Room Automation and AV Integration. Each course includes immersive learning experiences, on-demand videos accessible anytime and anywhere, and downloadable materials in PDF and PPT.
There are three levels, based on the proficiency and needs of every participant: Explorer, Associate and Expert, upon completion, professionals can validate their knowledge with a comprehensive quiz and receive a certificate as a testament to their achievement.
"Lightware's commitment to delivering exceptional learning and facilitating open knowledge sharing has always been at the forefront of our mission. Now, with the power of technology and e-learning, we are making this content accessible to everyone. Lightware Academy embarks students on a transformative journey through the ProAV world, to explore everything beyond our solutions and devices and gain in-depth knowledge of the entire industry," commented Gergely Vida, Lightware Visual Engineering CEO.
The last quarter of 2023 will bring more courses to Levels 1 and 2, while next year will focus on the development of Level 3 sessions.