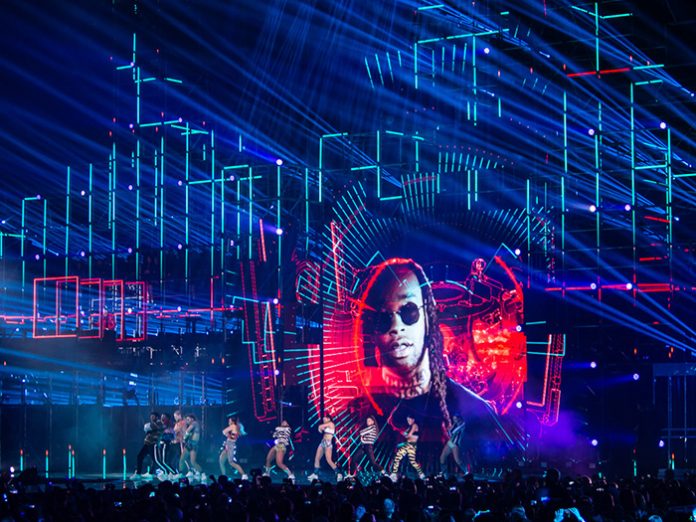 Continuing a long working relationship with Production Executive, Andy Derbyshire, Event Manager, Maggie Mouzakitis, Event Production Manager, Lisa Shenton, and Show Lighting Designer, Tom Kenny, PRG XL Video has supplied lighting for the 2016 MTV EMA. This year's event was held on 6 November, at the Rotterdam Ahoy, Netherlands, and was hosted by US artist Bebe Rexha.
PRG XL also supplied lighting, rigging, and video technology for the red carpet event. Their Account Managers, Kelly Cornfield and Mat Ilott were initially contacted by Line Producer, Sophie Huda, and Red Carpet Event Manager, Sean McNally, to supply an outdoor video wall, high impact lighting, and supporting rigging for the red carpet area.
Working with Set Designer, Adam Neville, and Lighting Designer, Stuart Pring, PRG XL's Head of Rigging Services, Q Willis specified the supporting structures for the video and lighting. Rigging crew chief, Chris 'Karrit' Harris delivered the show on-site.
Creating a glittering arrivals area for the stars, Adam and Stuart's designs incorporated a video wall formed from Barco C5 outdoor LED. Content for the video wall was supplied via one of PRG XL's own Mbox media servers, and included live feeds from the OB truck, social media feeds, and playback content.
Stuart Pring's lighting design used a combination of fixtures, with Encapsulite LED stick lights built into the set, and PRG Icon Beams lighting the way for the VIPs as they made their way into the venue. PRG's Sam Healey was Crew Chief for the red carpet lighting team.
Inside the iconic Rotterdam Ahoy, Production Designer Julio Himede created a vast set filling an entire side of the venue, curving around to create an immersive arena for the audience in the venue, and stunning visuals for the TV broadcast. Acclaimed Lighting Designer Tom Kenny worked closely with Julio to create his lighting design for the show. Tom Kenny has designed the lighting for MTV VMA and EMA events for more than a decade, as part of highly creative and much-talked about show designs.
Tom explained his initial approach to his design: "Working with Julio, and with PRG's Lighting Crew Chief, Rich Gorrod, we looked at the set design. This year, the huge wide set featured a massive wall of video, built from multiple elements. We wanted to cover the whole set and create a layered effect with plenty of back light and presence. With that in mind, and with one eye on the budget, we used a lot of strong beams, spread across the set, big wash lights at the back, lots of Icon Beams, PRG Bad Boys and Robe Robin 100s. We added Solaris Flares for extra strobe effects – they're a real workhorse."
Tom continued: "As part of the design, I look at the line-up of artists performing and try to tailor the fixtures to what I think they'll need. In some cases artists will have specific requests, but often we'll already have their needs covered in the main rig."
Some artists do have special requests, based on their individual performance. Tom explained: "Martin Garrix wanted a particular fixture for his set, so we brought in a load of GLP X4 Bars to satisfy that need. For One Republic, who included rain in their performance, we needed to find some waterproof LED lamps for the pool, and Rich Gorrod sourced custom-built fixtures for that purpose. For Green Day's 'Global Icon' performance we needed to give them a really huge look, so we added a bunch of Par Cans."
"Another fixture I was keen to use was the ACL 360 Matrix from Elation, which includes 25 4-in-1 RGBW LEDs. We arranged a demo of the unit, were suitably impressed, and that was used scenically to create colour and depth."
With an array of star performers, followspots were also a key consideration, and Tom Kenny was keen to use PRG's GroundControl Followspot System, which includes a remote follow spot, flown from the lighting rig and the operator is located with control unit at ground level elsewhere within the venue. Tom has used the system on multiple shows: "I first used GroundControl on Desert Trip festival and was really impressed by it. It's a very flexible system and allows you to place follow spots in locations that wouldn't usually work. I love it!"
Lighting console operators on the night were Alex Passmore and Jonathan Rouse, who Tom Kenny described as "two of the best programmers / operators I've worked with. Alex took care of the majority of the pre-programming, and on the night looked after the cueing on the main set, and Jonathan focussed on the key-lighting for the bands, live elements, and audience lighting."
PRG XL's Lighting Crew Chief Richard Gorrod led a team of 12 lighting technicians and operators for the show. Tom Kenny commented: "The MTV EMA is a big beast of a show. There's never enough time, but Rich and his brilliant PRG crew have high standards and work really hard to make it all happen. Rich is a total workhorse – he does the job of three people, and he has such a positive attitude. You couldn't have a better person on an event of this type."
Richard Gorrod summed up: "We're happy to continue our long relationship with Maggie, Andy, Lisa, Tom, Julio and the whole MTV EMA team. The show always looks amazing and really pushes the boundaries for a live event show. It's a huge production, and there are lots of suppliers all working side by side, harmoniously to make it happen. We're proud to be a part of bringing it all together!"