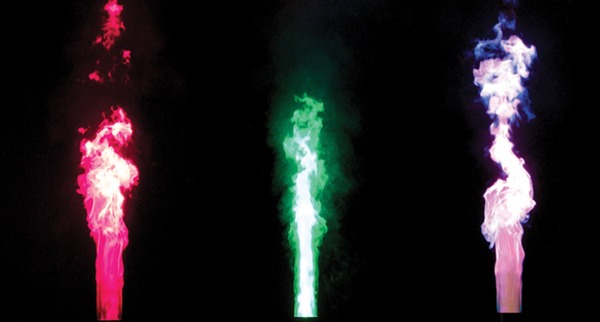 To celebrate their 40th anniversary, Le Maitre will release the new Wireless Salamander Quad Pro at LDI 2017, including a range of other smoke, haze, flames and pyrotechnics.
Le Maitre's Wireless Salamander Quad Pro features COBRA Firing Systems technology and an internal chargeable battery and no running cables. The 4-canister flame unit can be fired independently, producing 30 seconds of continuous flame or up to 120 flame balls. Each flame reaches up to 15 foot in height. Alternatively, all 4 canisters can be fired at the same time to produce a much bigger single flame reaching up to a spectacular 28 foot.
With its compact design, over 24 hours' standby time, an easy to use OLED display and a choice of flame colour and fuel type, the Wireless Salamander Quad Pro is an ideal choice for stadiums and larger venues.
Le Maitre's LDI 2017 showcase includes:
G300-SMART, a smoke machine featuring smart controls. A massive output of dense white smoke, supports both WiFi and LAN connectivity for set-up, monitoring and diagnostics. The user can set up and change the configuration of the machine via a mobile phone or tablet. Other fog machines on show will be the GForce 2 and GForce 3 and the Freezefog Pro, which produces atmospheric low fog.
Haze machines on display will include the MVS SMART which, like the G300 SMART, allowing the user to set up and control the hazer from a mobile device, such as a mobile phone or tablet. Powerful and versatile, 2 variable high speed fans can be used to control the force and direction of the haze stream.
The MVS SMART, which includes variable haze density, onboard DMX, low power consumption, fluid level sensing and automatic self-cleaning. Along with the ability to position the unit at any angle these all combine to form the most complete feature set of the Le Maitre hazer line.
The EcoHazer, an eco-efficient water-based hazer uses j100-150W and is designed for the road.  Alongside the Wireless Salamander Quad Pro we will be showing the Wave Flame. With its moving head technology, it produces a wide range of unique flame effects, firing very fast and accurate flame bursts.
From the TBF-Pyrotec flame range, which is exclusively distributed in North America by Le Maitre USA, Le Maitre will show the Pyromaster, the Single Shot and the 5-Master. Including the Arctic Snow Machine with its continuous, powerful output of realistic white, fluffy and light snow.