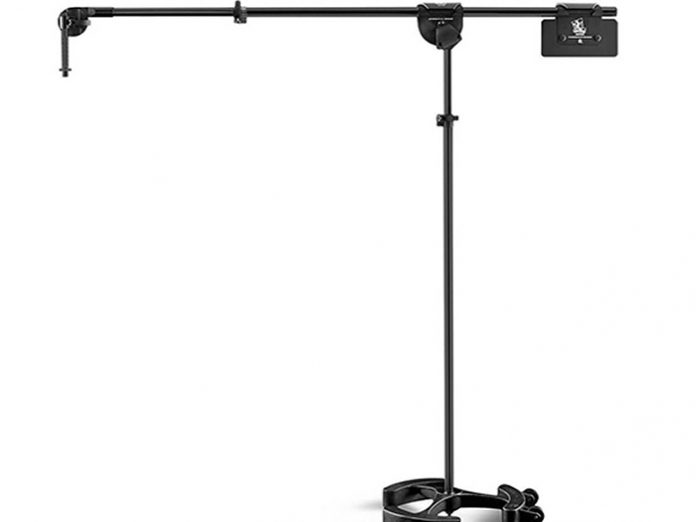 Lake Latch Music scooped two awards at the 2018 edition of NAMM Best in Show awards.
In 2018, the NAMM Best in Show panel picked the entire Latch Lake MicKing Series of microphone stands in the Add-ons and Accessory category for their strength and durability and in the Gotta Stock It category, they cited the Latch Lake Xtra Boom arm for it's incredible flexibility of use.
"We've spent almost nothing on advertising and have really grown through grassroots word-of-mouth alone," reflected Dave Roberts, Latch Lake COO. Roberts runs the company with his father Jeff Roberts, who reset the course of the company from guitar slides to stands over fifteen years ago after struggling to record a piano session with supposedly high-end mic stands that couldn't hold a microphone over the piano harp.
Roberts continued: "When my dad fabricated the first Latch Lake mic stand, the rest of the industry was in a race to the bottom. Everyone else was single-mindedly focused on building mic stands as cheaply as possible. My dad recognized that professional engineers needed a real tool that would work with them in the studio and not against them."
"Our mic stands and booms are clearly differentiated – they're built to last a lifetime, literally," said the elder Roberts.
"They're overbuilt workhorses and will never fail. A lot of folks think the Latch Lake difference matters for expensive microphones, and that's certainly true, but they're also designed to be fast and accurate. Who wants to waste time or kill a vibe with a weak mic stand when expensive musicians are waiting around? And every engineer knows that mic placement is one of the most important aspects of recording; certainly at least as important as downstream processing for which people drop thousands and thousands of dollars for rack gear.
"With a Latch Lake stand, a professional engineer can easily move a microphone to the perfect position and know that it will stay there without fail. A Latch Lake MicKing or Xtra Boom is a small price to pay to avoid the heart-sinking realisation half-way through a session that a cheap mic stand has dropped a mic out of position."