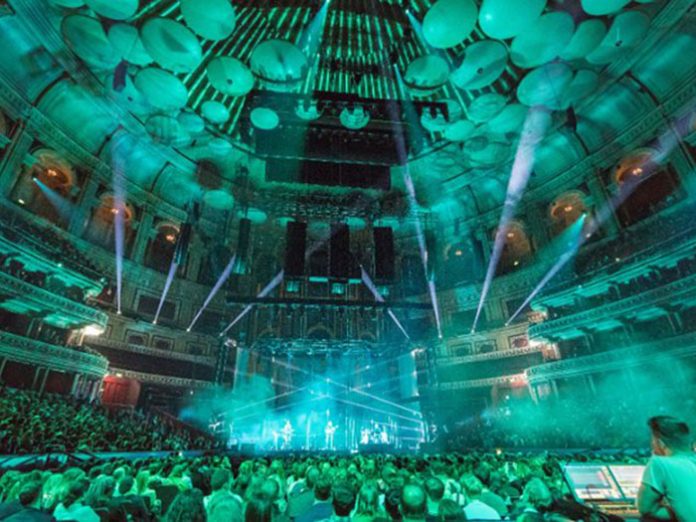 UK indie rockers alt-J, have made history again after their shows in the Royal Albert Hall in London -for the final dates of their world tour, in support of their 2017 album Relaxer- involved the UK's first ever deployment of the L-Acoustics L-ISA fully immersive revolutionary audio system.
The band were also the first to use the L-Acoustics L-ISA technology for their concert at Forest Hills Stadium in New York earlier in 2018. The revolutionary L-Acoustics audio system brought fans closer to the band's combination of ethereal harmonies and striking sound effects, for a full 360-degree audio experience.
alt-J's FOH Engineer, Lance Reynolds appreciated that the band's music included "a lot of interesting sonic nuggets and sound effects," and that the L-Acoustics L-ISA allowed him to bring these to the fore in his 360° mix. This, in turn, allowed the audience to truly appreciate the difference in comparison to conventional stereo live sound reinforcement for a fully immersive effect.
Music critics in attendance were similarly enthralled. The Evening Standard, who gave the show an exceptional five-star rating, reported that L-ISA Immersive Hyperreal Sound "literally caused heads to turn when the synth pulse of Hunger Of The Pine began to blip across the space."
For the L-Acoustics L-ISA system at the RAH, alt-J's long-time Production Supplier Rat Sound, deployed three central hangs of 12 L-Acoustics K2 with three Kara down each, flanked by two hangs of 16 L-Acoustics Kara either side of the K2 hangs to create the Scene system. Two hangs of four L-Acoustics KS28 were flown behind the L-Acoustics K2 hangs. Two hangs of 12 L-Acoustics Kara formed an extension system and two hangs of 10 Kara provided side-fill coverage. Two L-Acoustics ARCS II, left and right, sat on the stage lip, with two L-Acoustics ARCS Wide centre stage for front fill and three L-Acoustics X8 per side for stalls fill. Four SB18 were positioned below the front of the stage for low-end front fill.
The surround system comprised 10 L-Acoustics Syva positioned around the top of the Gallery, plus 10 L-Acoustics X12s evenly distributed around the bottom of the Rausing Circle.
The audience was on its feet for much of the show, which confirmed that the band's adoption of L-Acoustics L-ISA helped bring this world tour to a vibrant finale.
"Touring is becoming a more and more important part of what you do as a band, so it's exciting to think when you are writing a song how you can make it sound as amazing as possible live," said Alt-J's keyboardist and vocalist, Gus Unger-Hamilton: "And now that we know what can be done, it will be in our minds, for sure."