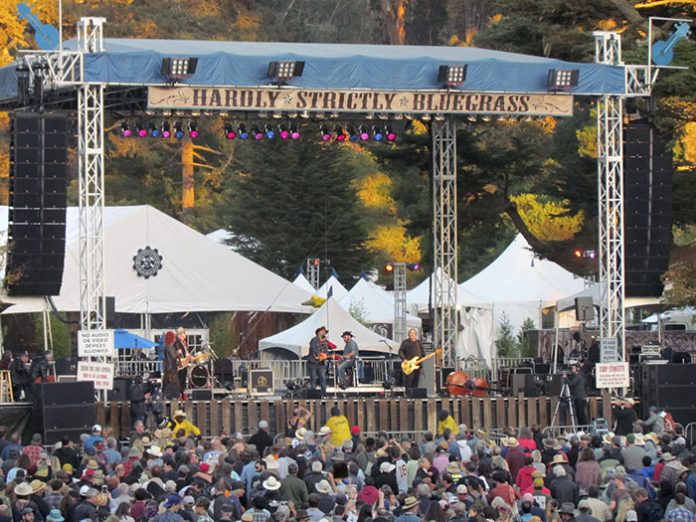 Bay-Area-based Sound On Stage supplies K2 and other L-Acoustics rigs for all seven of this year's stages at Hardly Strictly Bluegrass (HSB), a free non-commercial festival staged in an area of Golden Gate Park of San Francisco.
Covering the audio for this event is an affair that begins just three days prior to the show, with two of the stages going up on Wednesday, the other five stages going up on Thursday, and the event starting on Friday. This year, for the first time, in addition to the live music, a "silent disco" was added featuring some of the area's top DJs.
Although L-Acoustics has been a part of the mix since the beginning, this year also marked the first time that the entire rig for each of the seven stages was fully L-Acoustics. "We had K2 rigs on Banjo Stage and Swan Stage, and all of the other stages were V-DOSC with 115XT HiQ wedges, plus our newest addition, a bunch of X15 wedges. Those were on Swan Stage with hosted acts ranging from Kris Kristofferson to Chris Isaak to a bluegrass version of The Who's rock opera, Tommy." Beyond the mains and monitors, the systems were complemented with 8XT front fills, dV-DOSC and ARCS delays, and everything was run by an army of LA8-equipped LA-RAK amplified controller racks.
"The music really covers a wide range," said Norwood, who has been with Sound On Stage for two decades and a part of every version of HSB since its inception. While the fare leans heavily on acoustic music, the artists this year included classic rockers such as Cyndi Lauper and Jackson Browne side-by-side with San Francisco musical heroes like Hot Tuna and Boz Scaggs, plus many more Americana, folk, roots and indie rock artists.
The addition of the K2 has made providing the best possible audio experience to the crowd – as many as 750,000 people attend over the course of three days – a more "do-able" task, said Norwood. Being outdoors and on temporary stages in a geographic location famed for weather that can change in an instant, load limits are a major consideration. "K2 is the perfect box for HSB," he noted. "It's smaller and lighter than other boxes in its class but still has tons of output. And the lower weight allows us to hang more boxes and cover a larger area more consistently than other options will allow us to do. Plus, the X15 wedge was a big hit—both the artists and our techs loved it. It's lighter than the previous version and it has that little kickstand that actually comes in really handy," he enthused, referring to its built-in riser allowing it to be angled at 35° or 55° onstage.
This festival that leans heavily on traditional musical forms is all about tech when it comes to audio. "The LA8's let us run AES format out of the consoles and straight to the rack, so it's analog going into the mic and analog again coming out of the speaker, but the rest of the chain is digital."
With more than 100 bands of widely differing genres performing over the festival's three days, the need for a single audio solution to best accommodate them all was paramount. "While the K2 is certainly more than capable of delivering major output, this is a festival where both that nature of the music and our choice of PA is really about delivering the best possible audio quality for this really special event," Norwood summed up. "In our opinion, L-Acoustics clearly delivers the most natural reproduction of what the artists are wanting to communicate, regardless of what their style is. What is being performed on stage is precisely what is being heard by the audience, whether it's in a small venue or on huge festival like this where the sound was fantastic. All that being said, my personal mantra is 'I need eight more of everything,' so I'm going to want more boxes for next year," he laughed.