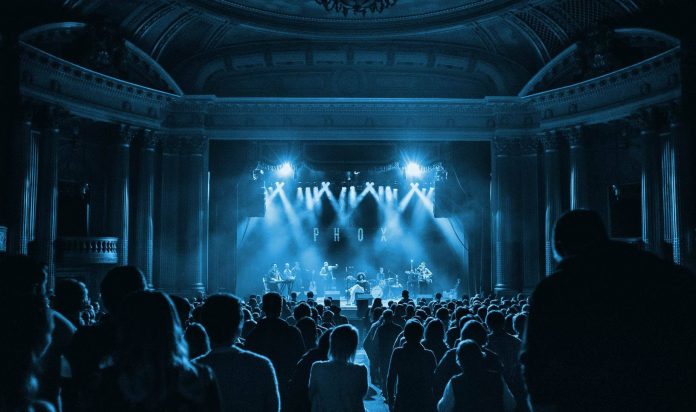 For the past 20 years, Verona, Wisconsin-based Intellasound Productions has been providing comprehensive live event production services for countless artists and corporate clients throughout the Midwest and beyond. Following an expansion project that grew its shop by 50% last year, the company has also now grown its audio equipment inventory and stepped up its production levels with a new loudspeaker package from L-Acoustics.
Intellasound's initial investment as a new L-Acoustics rental network member comprises 24 K2 and 12 Kara enclosures, 18 KS28 subs, five LA-RAK II racks loaded with a collective total of 16 LA12X AVB-ready amplified controllers, and an assortment of rigging hardware to allow the systems to be flown and stacked in a variety of setups. Kerry Miller at Clearwing Productions in Milwaukee facilitated the sale of the package.
For Intellasound's co-founders—President David Maier and Vice President Tim Woodworth—the SR Company's new association as part of the French loudspeaker manufacturer's rental network has been a long time in the making. "I remember the first time that I heard V-DOSC when it was out with Tom Petty in probably 2001," Woodworth recalled. "It was such a smooth, crisp, clean and natural sound that was very unique for the time. So when we were looking to make a sizable investment for our own rental inventory last year, we obviously wanted to find a system that would give us a good ROI for as long as possible. L-Acoustics' proven history, with V-DOSC still being on riders after more than 20 years, assured us that L-Acoustics would be the right fit for us."
Providing live event production services for everything from musical acts at festivals and theatres to corporate and political events, the Intellasound team notes that all clients seem to agree on one thing: L-Acoustics. "In our world, we need to keep up with rider demands, and L-Acoustics products are always on the top of those lists," he continued. "What the K2 system offers us is the opportunity to make the next step up in live production. It is widely acceptable to all riders, very natural sounding, has adjustable horizontal directivity, a lot of output and a very low weight. K2 has only been out for a few years, and with the addition of the new KS28 subs and LA12X amps, we knew that this was the right time to jump on board.
"Other aspects, such as box weight, were also a factor for us. During the warmer months we are out with our Stage line mobile stages and weight is always a concern with those. And, of course, another great factor was the availability of other companies in our area having the same product for cross-rental opportunities and regional support."
One of the most recent productions to benefit from Intellasound's new L-Acoustics system was an April tour stop by Grammy Award-winning trumpet player Chris Botti at the University of Dubuque's Heritage Centre, where the musician was joined by the Columbus Symphony.
"As one would expect, this was a highly dynamic show with both very quiet and loud passages, and it was extremely important that people in the front didn't think it was too loud during the loud songs, and that the last row could hear the quiet songs," Woodworth described. "The K2 performed flawlessly and did everything that we wanted it to. There was very little difference from the front row to the very last row, so every ticket purchaser had the same experience during the event." Intellasound's new Kara enclosures have been equally well received, he reports. "We have had the Karas on multiple events and every engineer that has walked in has been excited to see them; they are small in size but still have that signature L-Acoustics sound that a lot of engineers are expecting."
Woodworth added that the sound quality and system efficiency are two things that all of Intellasound's engineers and clients particularly appreciate about the new rig. "K2 and Kara create such a transparent, clean, crisp sound that is so effortless for the system, and our clients have immediately noticed the difference from the first moments of starting a song to tune the PA, which clearly tells me we've made the right choice."