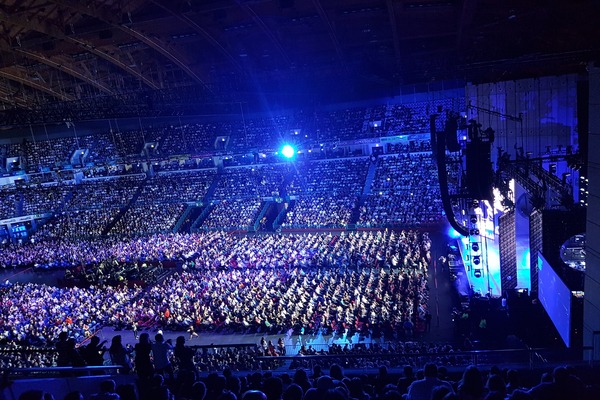 Grammy Award winning singer-songwriter John Legend's Darkness and Light tour hit Europe, playing wide scale venues, theatres and arenas in autumn 2017. Throughout, an L­­‑Acoustics K2 system, provided by UK rental company BCS Audio, provided both scalability and sound.
"As is so often the case, the client specified an L­­‑Acoustics system," explained BCS Audio owner David Shepherd. "This is one of the reasons we've been an L­­‑Acoustics supplier for several years now. Their systems are rider-friendly simply because they make great sounding products and consistently deliver the high quality of sound the artists want. And we want to provide our clients with that high quality – you always know what you're going to get with L­­‑Acoustics.
"We've been working with John Legend since 2014," recalled BCS Audio project manager, Nick Boulton. "His Front of House engineer, Troy Milner, had been really impressed with a K1 system they'd used during the first run of shows he worked on with John and he wanted to replicate that experience."
In the larger arenas, BCS Audio deployed main hangs of 14 L-Acoustics K1 with 4 K2 downfills, inverse stereo out hangs of 14 K2 and a flown centre hang of 6 Kara. To add a little more impact to the system, L-Acoustics K1-SB were flown behind each of the main arrays, with additional KS28 in front of the stage in an arc sub configuration to provide smooth low end coverage throughout the venues. The entire system was driven with AVB-ready LA12X amplifier controllers.
"The rig performed very well throughout the tour," concluded Shepherd. "It's easy to fly, safe and quick to work with and provides us with the scalability we needed for the varying venue sizes. We've worked a lot with John Legend over the last few years. Everyone is always happy with what we do and the L­­‑Acoustics systems we provide. This tour was no exception."