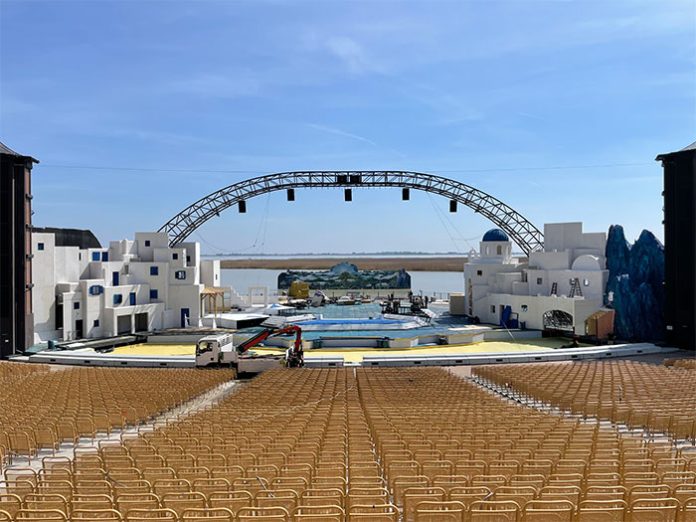 The Mörbisch Lake Festival 2023 has been elevated further through a collaboration with L-Acoustics. 
Over the past twenty years, this venue has evolved from a simple site, into a vibrant centre for performing arts. It now hosts productions such as this year's Mamma Mia! and boasts a capacity of 6200 people. In response to the demands of an expanding venue and increasing productions, the Mörbisch Lake Theatre had identified a pressing need for a high-quality sound system.
The decision was made in September 2022 to use the L-Acoustics A15 as the permanent sound system, due to its compact design and 110-degree audience coverage.
Five hangs of three A15 speakers were deployed to achieve complete spatialisation across the entire plateau. Four centrally flown KS21 subwoofers were added to enhance the lower end of the audio spectrum.
With a significant 25-metre gap between the edge of the stage and the audience's front row, and an additional 60 metres of audience area to span, sound spillage is effectively minimised: The L-Acoustics A15 emerged as the choice to retain high frequencies.
The A Series was the sound engineers' speaker of choice due to its curvature, which was suited for the characteristics of the stage. This design allowed them to adjust directivity between 110° and 70°, offering greater flexibility to direct sound precisely where required while minimising noise spillage.
"The A Series system was the perfect match for this project – providing a full range of audio from a compact set of speakers. Its size was a key factor, given our stage's truss constructions are also used for set designs, meaning large speakers were not an option. One of our biggest surprises was how well the A series handled the wind, as it typically blows from the water towards the audience. This can cause problems for line array systems, particularly with higher frequencies being blown away. However, the A Series system successfully managed these conditions, ensuring a consistent and high-quality audio experience for all attendees," commented Raphael Rupprecht, Technical Sales Manager and ACC at Signal.
As the venue gears up to continue its series of shows, the feedback has already been overwhelmingly positive. Both Thomas Hofstädter and the Technical Director of Sound are extremely pleased with the new sound system. "It's a vast improvement over previous years and we're excited for our audience to experience it," concluded Rupprecht.