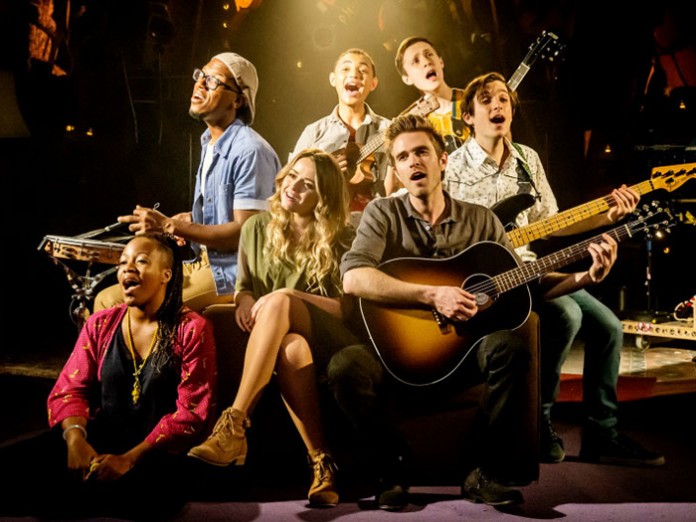 Close to You: Bacharach Reimagined, is a dynamic, uplifting and magical journey through over 30 of Burt Bacharach's classic hits and features a sensational cast of talented actor/musicians presenting a unique audio requirement in a West End Show.
Tasked with supplying audio production were Stage Sound Services and, having been introduced to the world of KV2 Audio by noted Sound Designer Richard Brooker, the company had no hesitation in supplying a complete KV2 Audio solution.
Originally running in the Mernier Chocolate Factory, London before transitioning to the Criterion Theatre in Piccadilly, the sound design team of Brooker and associate Tom Marshall opted to provide the performers with conventional loudspeaker monitoring as opposed to IEM. Because the action moves around the stage floor mounted monitoring was not an option as it would impact on audience sightlines.
Taking the unusual but highly effective route of flown above the stage in multiple zones firing downwards, seven compact EX 6 two-way six-inch loudspeakers were specified allowing monitoring to be focused on stage precisely where required whilst limiting noise spill.
Discussing the show Brooker stated: "When tasked with designing this unusual show I knew that sound quality was paramount. Obviously, like all our shows, it needed to sound amazing for the audience but it also had to sound great for the cast.
"They needed clarity and accuracy with even coverage along with a dynamic and exciting sound to enhance their extraordinary performances. This, coupled with the additional complication of some of the audience being seated on stage made it quite a challenge."
When speaking about his decision to use KV2 Audio products he said: "My previous experience of using KV2 products made the decision of which loudspeaker brand to use very simple to make. I am delighted with the way the show sounds. The KV2 speakers delivered everything and more!"
The main FOH and all delay duties were also handled by KV2's range of Truly-Active EX products.
Six EX 10 2-way 10-inch loudspeakers, two EX 1.8 18-inch subwoofers and four EX 2.2 2×12-inch bass enclosures delivered every nuance of classic songs such as Alfie, What the World Needs Now is Love and Walk on By performed by the live musicians.
Sixteen EX 6 two-way six-inch loudspeakers and four EX 26 two-way two by six inch loudspeakers were used as delays around the 3-tiered Grade-II listed Victorian Theatre to ensure that each seat in the house experienced the true feeling of the performance.
Stage Sound Services' Director, Phil Hurley, commented: "After an initial introduction to KV2 Audio products we undertook more in depth listening tests. Based on those results we unanimously agreed that their products would be a good addition to our ever-growing audio inventory.
"The service we received from the team at KV2 was also great and with sound designers specifying KV2 products with more frequency, coupled with the fact that the products offer excellent value for money, made the decision a no brainer.
"The success of Close to You and further collaborations between Stage Sound Services and KV2 including Funny Girl and other future projects soon to be announced is incredibly pleasing."
Close to You: Bacharach Reimagined has already been extended to Valentine's Day and the main man Burt Bacharach has given the production his glowing seal of approval: "It's a love letter and truly unique. I love it!"