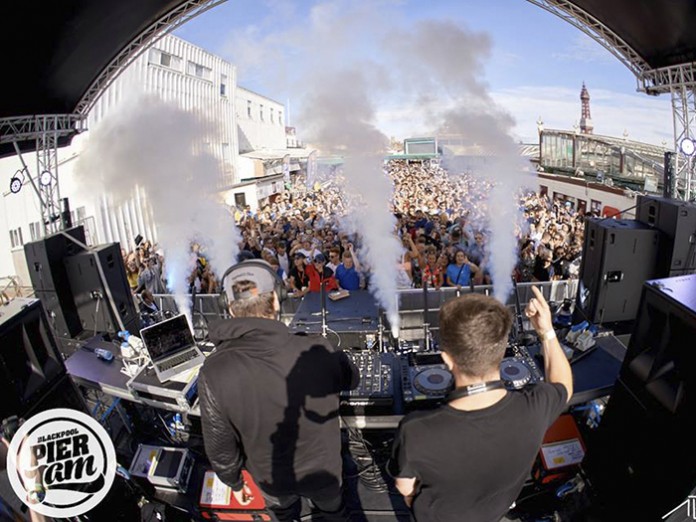 KV2 Audio's products played a key part in some of the UK's most high profile Dance music events.
The production company Just Lite have grown its stock of KV2 products from 2012 to 2015 and have been providing audio and production services to a range of high profile Dance events throughout the UK.
These events include regular nights at Sankey's Warehouse, Victoria Warehouse Manchester featuring Basement Jaxx and Arman Van Heldon, Dublin's Metropolis Music Festival and Blackpool's Pier Jam.
Having formed predominantly as a lighting-based company over 20 years ago, KV2 Audio have worked with Just Lite since the inception of its audio division in 2012. Director Paul Smith and Head of Audio Evin Doyle recognised KV2's clarity, definition and incredible output to footprint ratio would be a great foundation to build this side of their business on.
Initially Just Lite invested in one of KV2's legendary ES System, capable of impressing audiences of up to 1,000 people with just one ES 1.0 mid/hi enclosure per side.
Over a comparatively short time scale their KV2 hire stock has expanded dramatically. Just Lite now boast four complete ES Systems, the full range ESR 2.12 system, active EX 10's and passive ESD 6's and ESD 10's. They also stock two of KV2's flagship complete VHD (Very High Definition) Systems capable of tackling events of 5,000 people with just one VHD 2.0 per side and up to 20,000 when doubled. Just Lite can complement any of these systems or products with six of the ultra low frequency VHD 2.21 two 21 inch subwoofers.
Speaking about Blackpool's Pier Jam 2015, which was beset with terrible weather conditions Doyle remarked: "The weather conditions were so bad that the main stage was downgraded to the second stage on the day of the event. However, as weather conditions improved slightly we were asked to re-instate the main stage, which involved moving the system mid-show.
"The compact Point Source nature of KV2's products meant that this was achievable with minimum disruption, something that couldn't be achieved with a Line Array approach.
"The audio was clear and defined and carried down the 500 metre Pier with no trouble, even at the very end of the Pier you could really feel the energy and atmosphere created by the prestigious DJ's playing!"
"The tight focus of all the mid/hi's used across both outdoor stages ensured that there was no audio spill between the stages even though the stages were side by side. Several smaller  indoor spaces were also covered by KV2 products and we had such faith in them that we even left these unmanned."
Speaking about KV2 in general he stated: "Whether we are providing audio reinforcement for our large scale Dance events and club nights, TV shows in notoriously bad sounding environments or providing live systems for Irish music sensations Celtic Women KV2 products always deliver. The crystal clear delivery of the source material and the simple set-up nature have been an invaluable tool as we continue to grow our sound division."
He concluded: "The awesome energy and high definition generated by our KV2 products means that they excel in all applications and they are a really exciting solution for Dance events."