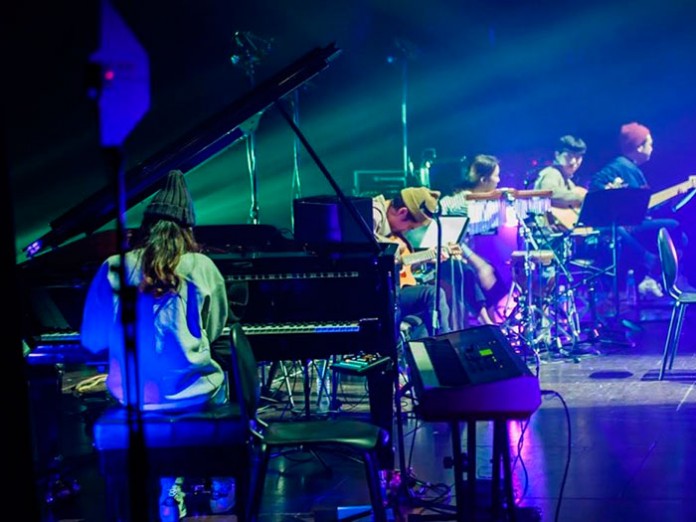 Korean indie band, Standing Egg, embarked on a recent national tour with Allen & Heath's dLive digital mixing system and ME personal monitoring system, supplied by rental company G Audio.
Based in Busan, G Audio is a renowned rental company, which selected the dLive S3000 Control Surface with DM32 MixRack for FOH, and ME monitoring system comprising ME-1 mixers for each musician and a ME-U hub, from its hire stock.
"Using dLive was a refreshing experience, the design is optimal and versatile for every engineer and live mixing application," said Minkyu Kim, audio system manager at G Audio. "dLive has a lot of useful features; additional inputs and outputs are available by connecting the DX32 expansion rack, and Dante, Waves, and MADI cards can be inserted to give dLive networking options. Moreover, we gained 96kHz resolution sampling rate, and the simple Cat5e connection enabled us to have a quick set up and break down."
"The quality of the time-base effects and dynamic effects in the dLive FX rack is awesome. Standing Egg care a lot about vocal reverb, and dLive has much more natural, rich sounding colour than other digital consoles. I also use Dynamic FX on the rhythm instruments, which gave the sound more thickness and punch. Also, the dLive surface is perfectly designed, with the rotaries, faders and soft keys positioned in the exactly the right place. The Harmony user interface enables the engineer's eyes and fingers to move together. I think dLive's touch screen is currently the best available, and gives an incredible overview of the processing," he continued.
On this tour, Standing Egg comprised a grand piano, a keyboard, two acoustic guitars, percussions, bass, and a vocalist. Allen & Heath's ME system was adopted for a more delicate and clean monitor mix. Each band member was given a ME-1 personal mixer, enabling them to control their own mix, and the monitor engineer to focus more on the vocal mix. The ME-U hub is connected to the DM32 MixRack, and audio sources and power is supplied to each ME-1 via a single CAT5e cable.
"ME personal monitoring system was a great choice for the wide dynamic range of Standing Egg's music. The system is extremely intuitive and easy to control, and it only took 10 minutes to train the band," said Kim.
Performers can overview information on the ME-1 screen, as well as configure many features, such as channel select, channel naming, level control, and assigning sources to group or each channel via 16 buttons. ME-1 can also save and recall monitor scenes.