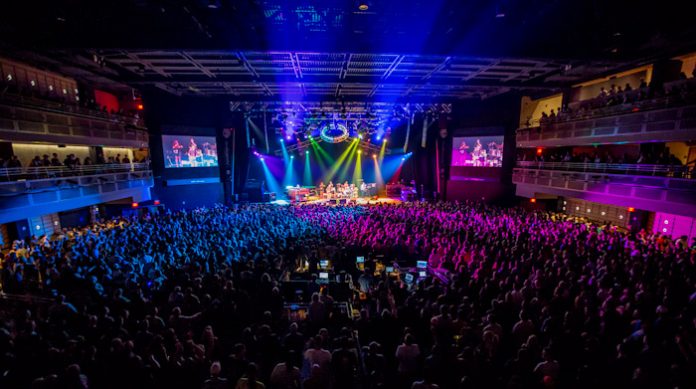 The Knight of Illumination Awards USA (KOI-USA) has announced that the 2019 ceremony and gala dinner will be held at the iconic Hard Rock Hotel and Casino Las Vegas. This, the second KOI-USA, follows last year's hugely successful inaugural event, and will again take place during the LDI Conference and Tradeshow.
The 2019 KOI-USA ceremony will be held in the 4000-seater venue, The Joint, within the Hard Rock Hotel complex. Guests will enjoy a three-course dinner as the nominees and winners are announced in each category: Theatre, Live for Broadcast, and Concert Touring & Events.
"We are thrilled to be moving KOI-USA to such an iconic entertainment venue," says Managing Director of LDI and co-organizer of KOI-USA, David Johnson. "The Joint allows us to grow the event, offering a wider canvas on which to showcase all of the talented nominees. It doesn't hurt that Hard Rock also houses the Center Bar, where the industry tends to congregate after hours during LDI, ensuring KOI-USA is an industry-wide celebration and further networking opportunity."
Following the high attendance and interest in the inaugural ceremony in 2018, the KOI-USA team knew it was necessary to move the ceremony to a larger venue. The Joint is a fitting location for KOI-USA, having played host to some of the biggest names in rock over its 25-year history, including Mötley Crüe, KISS, and Aerosmith.
As ever, the judging process remains key to the Awards' integrity. KOI-USA has welcomed a number of new critics and industry experts to the panels. The full list of KOI-USA judges and awards can be found at the knight of illuminations website.
In addition to the 19 design awards, the Paky Lifetime Recognition Award will be presented to an individual who has made a significant contribution to the entertainment technology industry, chosen by members of the KOI Committee.
Last year, they unanimously decided to award pioneer of the digital revolution, Pat MacKay, with the Paky Lifetime Recognition Award. The Award is named in fond memory of Pasquale 'Paky' Quadri, founder of headline sponsor, Claypaky.
To be eligible for submission, productions must have been performed or broadcast between August 1, 2018 and July 31, 2019. Submissions will close on July 31. To submit a design for KOI-USA 2019.