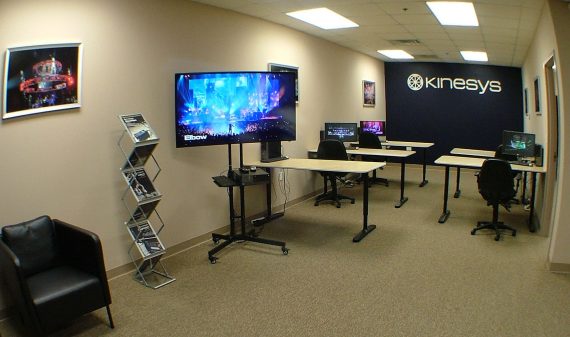 Automation control systems manufacturer Kinesys is opening its doors and welcoming guests to its dedicated training facility in Atlanta, Georgia, for an event that will run from 22nd to the 23rd June.
The events will offer a chance to test and trial some of the Kinesys product line for those who want to know more about automated rigging for the entertainment industry. This event has been designed to cover the basic operation and implementation of Kinesys equipment and will showcase a broad range of products that will appeal to individuals and companies involved in the increasingly popular discipline of automation / motion control.
The invitation is open to lighting and show designers, automation operators, rental suppliers and rigging service providers – anyone with an interest in this dynamic element of modern show production. Key products include variable speed chain hoist systems, programmable fixed speed motor control and load cell monitoring systems. The format will serve as in-depth introduction to products like the iconic Elevation1+ variable speed chain hoist control, K2 motion control software, the DigiHoist "smart" motor control platform and the Libra load cell shackle system.
Attendees will be able to get some quality hands-on time with the products as well as learn about the company's commitment to safety, quality and reliability which have become synonymous with the brand. David Bond, Kinesys USA's Head of Sales, North America, commented: "Our aim is to provide a chance for lighting and video suppliers to see first-hand how our systems work and how they can help them to expand their core markets by adding motion to their existing products.
"We also want to learn about their respective businesses and look closely at the products best suited to their requirements. Attendees can see how our systems can be incorporated into their designs, specifications and rigging operations."
Bond continued: "Those who already use Kinesys are very loyal to the brand so we want to give more people a chance to sit in the programming 'driver's seat' so they can form their own opinions."
For more information on the event contact David Bond for more details: david.bond@kinesysusa.com or mobile +1 (506) 863-7469.