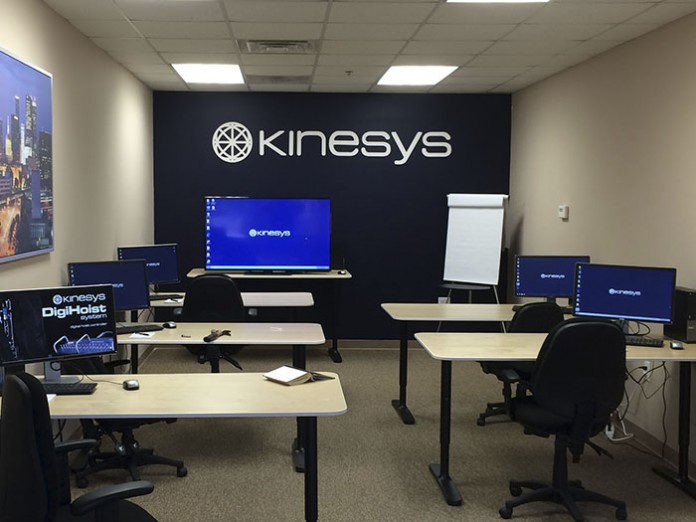 Motion control systems manufacturer Kinesys is to welcome guests to its dedicated training facility in Atlanta, Georgia, in an event that will run from 25-28 January 2016.
The event is reported to offer both product awareness and free operator training for those who want to know more about automated rigging for the entertainment industry.
This event has been designed to cover the operation and implementation of Kinesys equipment and will showcase a broad range of products that will appeal to individuals and companies involved in the increasingly popular discipline of automation / motion control.
The invitation is open to lighting and show designers, automation operators, rental suppliers and rigging service providers – anyone with an interest in this dynamic element of modern show production.
The training workshop will provide structured learning in the theory, programming and operation of the Kinesys Vector software along with an introduction to the various machines it can control. This will comprise of both classroom and actual machinery operation sessions.
The open house days will serve as an introduction to the range of Kinesys automation solutions including products like the iconic Elevation1+ variable speed chain hoist control, K2 motion control software, the DigiHoist motor control platform and the Libra load cell system.
Attendees will be able to get hands-on time with the products as well as learn about company's commitment to safety, quality and reliability that have become synonymous with the brand.
Two days will be focussed on Vector software training offered to invited technically minded operators, while the remainder will feature an 'open house' format where attendees can see demonstrations, take part in basic system operation, chat with the Kinesys USA team and network with other professionals in the field.
Allocated places on the training workshop will be limited to ensure everyone receives the proper attention and to optimise the facilities.
David Bond, Kinesys USA's Head of Sales North America, commented: "We intend to show attendees the wide range of products and how easy they are to use.
"We also want to learn about their respective businesses and look closely at the products best suited to their requirements as this is an opportunity to see how our systems can be incorporated into designs, specifications and rigging operations.
"Those who already use Kinesys like the products and are very positive so we want to give more people a chance to sit in the 'driver's seat' so they can form their own opinions."
The Kinesys USA training facility and office is conveniently located just two miles off I-20 and approximately 15 miles from Hartsfield–Jackson Atlanta international airport.
Kinesys will provide an evening of entertainment as well as on-site catering with refreshments throughout the four days as part of the package. Shuttles between hotels, activities and the sessions will also be offered at no cost.
Attendees will need to arrange their own transport to the Kinesys' training facility and accommodation in the vicinity, which is well serviced by a variety of hotel options.