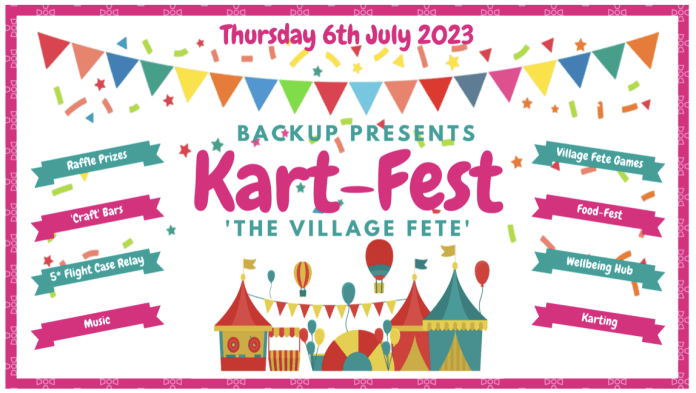 Now in its eighth year, Backup's Kartfest returns to Sandown Park for its biggest event yet.
"With our fantastic headline sponsor, CHAUVET Professional, we are building a big old fashioned Village Fete to give everyone a great day out," said Backup Vice Chair and the event's organiser, Lee Dennison. "Our judges will be out in force scoring the best dressed stalls, our cake bake competition and the best fete game. We are all looking forward to apple bobbing, hook the duck and smashing the rat."
Backup is also delighted to have 5 Star Cases officially sponsor the Flight Case Relay, which is longer and faster than last year's race. "We are so looking forward to seeing the budding Linford Christies warming up on the day," adds Lee.
A huge focus this year on the Wellbeing Hub, which will see Music Support, The Lions Barbers Collective and Music Industry Therapist coming together to provide a fantastic educational and support space for everyone attending.
There will also be a multitude of food offerings at the Village Fete, with a mixture of Mediterranean, Italian and Asian street, and the Mr Whippy Van will be there, so there will be plenty of choice for all. To help this great food go down, Big Drop Brewery and Signature Brew will be selling their fantastic ranges of non-alcoholic and alcoholic drinks, as well as a few other fantastic crafters. Beats will flood the Fete site all day, courtesy of DJ Adam Fabulous, plus the ever-popular Kartfest raffle.
Book your tickets here.