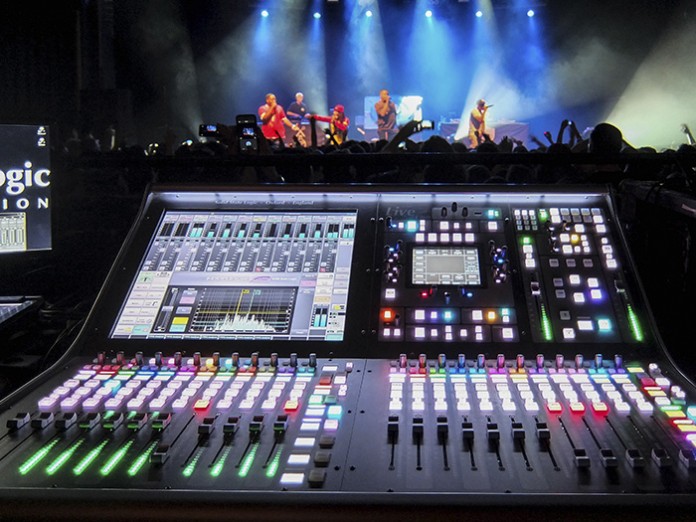 The US Hip Hop act Jurassic 5 was on the road again with a 2015 US and European tour.
Rappers Chali 2na, Akil, Zaakir aka Soup, and Marc 7, plus DJs Cut Chemist and DJ Nu-Mark brought their energetic mix of vocals and decks to stage, along with some inventive toys that included Chemist's record-guitar and Nu-Mark's record-necklace. The band's FOH Engineer, Aron 'M-Sound' Mandelbaum, was travelling with an SSL L300 live console and ML 32.32 Stagebox, using them on 18 tour dates, including five festivals.
Inputs for the main show included all vocal mics (and spare), plus the outputs from the DJ mixers. Mandelbaum explained: "The environment I get to work in is not only super-consistent, but I have rappers that have excellent mic technique, so my channels come back the same way every day.
"The band is a kind of litmus test for a PA. I can tell you what's going on in your processing and I can tell you what's happening with the console."
According to Mandelbaum, the L300 showed its true colours at the festivals where direct comparisons with other consoles, both analogue and digital, were inevitable.
He commented: "It blew the doors off everybody else. There's nothing that can touch it; nothing.
"Most of the other consoles have a brash top end. You can hear there is a dissonant, transient, mild distortion to the point where you've got to pull 4k, 6k – one of the higher range frequencies. It was as if the L300 had a shelf in there that's not actually there, because it's clearly going all the way up the range.
"It's so true dynamically that I was generally riding the vocals well beneath my music – 'settling them in' as you would in a studio.
"There's just one artist with a slightly 'bitey' vocal, so I went in and added the multi-band compressor to him, and away it went – it was dynamic and accurate and really very sweet."
The console's reactive, accurate processing gave Mandelbaum an edge when it came to an issue specific to the material that Jurassic 5 used on stage. He elaborated: "Many of our DJ tracks have a kind of a mid-90's happy face dip in the mid-range to make room for where the vocals were.
"It was very common practice back in the day. I've had to make up for that quite often in the channels of other consoles in a really deep way. A wide Q, turning up everything from 2k in a huge band. Just a massive whale's bump!
"The difference was in the accuracy on the L300. It was incredible. I found the zone that needed to be pushed and at about three to four dB up it made up the difference nicely. On another console I might have to add another layer of compression, or another parametric EQ to really get at that zone. That's not an issue on this console. You go straight to the channel and do something to it, and it works. And that's everything."
Another aspect that Mandelbaum considered a major contributor to the console's performance pedigree was its flexible and responsive control scheme. "That's one thing I came away with every day," he reported. "Even though it's digital, the console responds as if it's analogue; that's a big deal.
"I'm an explorer on a console. Depending on where I'm at or what I'm working on I might for example end up using the encoder section because I'm in the middle of doing something else on a screen.
"I like to use all the areas as much as I can, and even though I have a short input list I still use VCAs. I have three stereo faders on the DJs and I have all the artists on their own faders on the right. That way I can control input channels on the left, or open up an EQ, or do a bunch of other things over on my left."
Overall, Mandelbaum said the console was a "lovely environment to work in", with exceptional sound quality: "Everybody else has a timbre," he concluded.
"It's as if there's an actual flavour to other consoles. If you were to call the L300 a flavour, I would say that it's 'true'. It's definitely going on my rider. I'm excited by it."