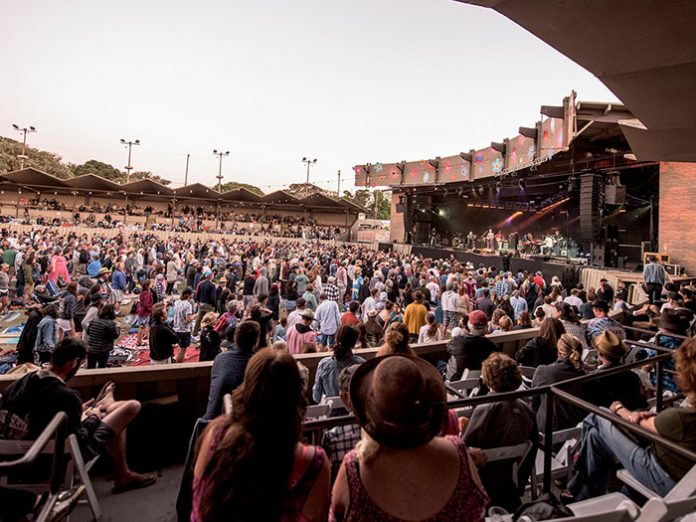 Fifty years after his first appearance at the launch of Monterey International Pop Festival in 1967, the Founder of Meyer Sound, John Meyer, returned to the city as the official sound partner of the event. This time the entire commemorative festival would be heard through a LEO Family linear reinforcement system designed and built by Meyer's company.
It was at the first edition of Monterey's festival, 'Summer of Love' , when John Meyer realised that his passion for sound would be channeled into an exploding new market for high-level concert reinforcement.
"At that time it was all brand new, with this whole new style of music just coming out of the woodwork," Meyer recalled. "I realised that we would have to start building a whole new generation of equipment that could cope with this level of outdoor festival, systems that could be not just loud but also articulate. Monterey really opened things up. It was an important event, and I knew it was not going to fade away."
This year's event, officially titled 'Monterey International Pop Festival Celebrates 50 Years', was jointly produced by Another Planet Entertainment and Goldenvoice in association with the Monterey International Pop Festival Foundation.
One important goal for the production team was to revive the spirit of the 1967 event while still recognising the music of today's younger artists. One solution was to keep a unified focus at a single stage.
"At other big festivals you have people running all over to see different acts at different stages," Another Planet's Gregg Perloff noted. "Here, everybody comes together at one stage. It may mean something different to each person, but at least everybody has the opportunity to join together to hear all this fabulous music at the same time."
He stressed that ensuring great sound was a top priority. "Sound is so important in a setting like this, and we wanted to make sure it would be perfect. We are an independent entertainment company based in Berkeley, and fortunately the world's top sound equipment manufacturer happens to be another Berkeley based independent company. Meyer Sound proved to be an ideal partner for this year's return."
The main PA system at Monterey 2017, supplied by UltraSound, was anchored by main front arrays of 12 each LEOPARD line array loudspeakers with two per side MSL-4 loudspeakers as outfill. Bass was supplied by eight 1100-LFC and four 900-LFC low frequency control elements with six additional LEOPARD as front fill. The artist foldback system comprised 12 MJF-210 stage monitors, five 700-HP subwoofers, four MSL-4 for side fill, and one CQ-2 as drum fill top. The small Garden stage, active only when the main stage was quiet, deployed a system with four CQ-1 loudspeakers, four 700-HP subwoofers and six UM-1 stage monitors.
Headline acts for the 2017 festival included: Jack Johnson, Leon Bridges, Norah Jones, Father John Misty, Gary Clark, Jr. and Regina Spektor. Michelle Phillips of The Mamas and the Papas, a group central to the original festival, made a guest appearance with The Head and the Heart. Three billed acts also featured 1967 veterans: Booker T. Jones with his Stax Revue, Eric Burdon and the Animals, and the Grateful Dead's Phil Lesh with his Terrapin Family Band. As an echo of Steve Miller's "proto – Meyer" stage system of 1967, Lesh played through a custom amplification rig largely based around Meyer Sound components.
For his part, John Meyer was gratified to find that the way audiences respond to good music as heard through a good sound system has not changed over the last half century: "When these young bands get on stage and the crowds move forward – a mixture of younger and older fans – you can tell they are really engaged. They are not just observing something from the past. Yes, in some ways it's a different scene now, but there's still that same enthusiasm, the same excitement."