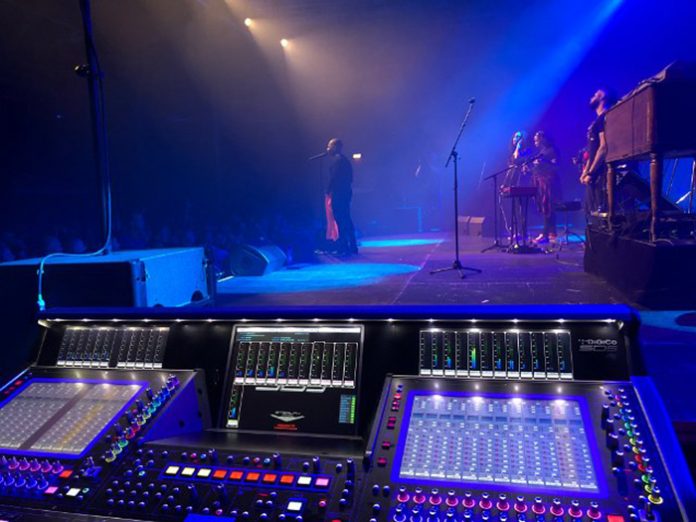 Swedish rental company JLE Audio AB has recently invested in a DiGiCo SD5, SD10 and SD-Rack, purchased through DiGiCo's Swedish distributor, Soundware.
"We had received many requests for DiGiCo consoles," said JLE's Johannes Jonsson. "DiGiCo consoles are very rider-friendly, are powerful and flexible, and the sound quality is excellent. This combination means that as well as fulfilling the request for the concert, the purchase made sense as an investment. The consoles are a very useful asset as part of our rental stock, not least because we already have more than 200 L-Acoustics loudspeakers and the combination of the two brands allows us to handle any project that comes our way."
For artists Kirk Franklin and Samuel Ljungblahd, the SD5 handled monitor requirements, whilst the SD10 was at the Front of House position. The decision was made to use them on the show partly because of the request on the rider, but not least for the audio quality, the capacity of the SD5 as a monitor console and the simplicity of all the system, which was connected via an Optocore loop.
The front of house SD5 had a total of 126 inputs, including FX returns, plus 33 stereo Aux and nine mono sends. The SD10 meanwhile handled 118 inputs with FX returns and a Waves server.
"The Snapshots management is really good as are all the possibilities with macros," said Johannes. "The service from Soundware has been excellent. Their support is first class and we got the right help at the right time. Everybody is really happy with the consoles."
JLE's DiGiCo's have been working hard ever since. In fact, they are so happy with the initial investment that they have now added an SD12and a SD-Mini Rack with 32-bits card to its inventory.