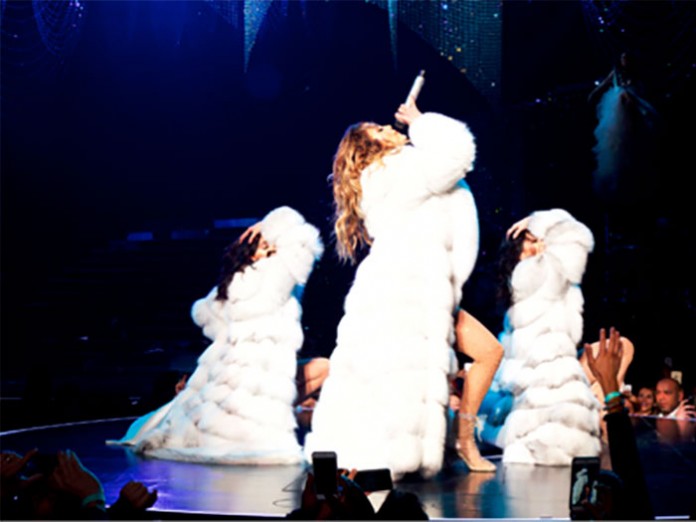 When Jennifer Lopez decided to return to her musical performance roots with a residency at Planet Hollywood's AXIS Theater in Las Vegas, she and her team left no stone unturned in their efforts to create an outstanding show. A key piece of the puzzle was finding the right combination of microphone and wireless system for the artist – one that would handle the hostile RF environment of a major production. They found the Shure Axient wireless with the new KSM8 Dualdyne premium dynamic capsule to be ideal.
According to Shure Artist Relations Senior Specialist Nelson Arreguín, the combination proved to be a perfect fit for the artist. "Once the audio team had tried the KSM8 – which was still in beta test at the time – they knew it was the mic for her," he said. "Soon, I was put in touch with JLo's production team to discuss endorsement possibilities."FOH engineer Gordon Mack became a huge fan of the KSM8 for its versatility across a wide range of material. "The KSM8 is a very full-throated mic. It captures all the warmth and depth of Jennifer's vocal without losing the crispness of a lightly sung lyric, all the while maintaining its composure as she struts in front of the PA. The only feedback I've had isn't from the mic – it's from people talking about the mic!"
Monitor engineer Anne-Lise Coulet had a similar reaction. "The KSM8 capsule is a life-changer in monitor world, especially for in-ears," she said. "When Jennifer is moving between the PA, side fills, and the live band, and the audience starts screaming, the KSM8 gives me the clarity and control I need so that her vocal easily cuts through it all without bleeding." Coulet is also in charge of the show's wireless systems, running 24 channels of RF networked together through Shure's Wireless Workbench software and Axient Spectrum Manager for real-time monitoring of every channel. The production uses ten microphone channels (Axient AXT200/K8B for JLo, Shure UHF-R for the rest of the stage) and 14 PSM 1000 in-ear systems.
During the initial ten-show run at Planet Hollywood, the audio team came away extremely impressed with Axient's powerful features. The production also uses the Shure Axient AXT610 ShowLink access point to enable the system's unique frequency diversity capability with full remote transmitter control, ensuring that Lopez's vocals will never be marred by interference or dropouts. "The Axient system does things that no other wireless system can," noted Coulet. "At one point during the show, Jennifer sings on top of a metal tower that is raised by an industrial electric motor – literally making the entire tower a giant antenna! The wireless we were using before couldn't handle it, but it was no problem for Axient. The frequency diversity is also very reassuring, though thankfully, we haven't had to use it during a show yet!"
Another interesting aspect of the show is that Lopez had her AXT200 transmitters customised with crystals to match her costumes. This necessitated some input from Shure. "First, we needed to make sure the designer was aware of the Axient battery design, so that the bling didn't interfere with battery removal," said Nelson Arreguín. "In addition, we provided a modified AXT902 charging station with wider openings to accommodate recharging the lithium-ion battery packs."
FOH engineer Gordon Mack, who has mixed top stars, including Prince, Chaka Khan, John Legend, and others, feels the combination of the KSM8 capsule with Axient wireless is a great fit for Jennifer Lopez. "I like to think of myself as a singer's engineer," remarked Mack. "I approach vocals by listening to the artist off mic, then try to recreate and reinforce that timbre over the PA. The sound quality of the Axient system takes wireless to the next level, and the KSM8 capsule lets me bring every nuance of Jennifer's performance through to the audience."